After the "Game of Thrones" premiere on Sunday, everyone has one question on their minds: Is Melisandre resurrecting Jon Snow or nah?
(C'mon, HBO. We're dying here. We're resorting to looking at blood patterns for crying out loud. Blood patterns! It's like the Rorschach test from hell.)
Well, thanks to "Game of Thrones" actor Joe Naufahu, you can Khal it maybe.
Naufahu plays Khal Moro on the show, and he's all for the theory on
Melisandre bringing back Snow
.
"She's definitely apowerful woman. If anyone's going to do it, it's gonna be her," the actor told The Huffington Post.
"There are so many different lines that that story could go down," he explained. "I don't know. Personally, I'm a big 'Walking Dead' fan, and I think it would be cool to see him come back as a White Walker."
Still, the actor had one theory you can definitely cross off your list.
"There's one that said Jon Snow gets reincarnated into a Dothraki horse that can talk, and yeah, that's the most ridiculous one I've ever heard."
Naufahu, a fan of the show before getting a role, said he had to pinch himself before shooting his first scene with Daenerys (Emilia Clarke). And, just like everyone else, he was shocked while watching the big old Melisandre reveal on the season premiere.
"Try to sleep after that, man. It was definitely unexpected, and I think that's just the beauty of the show. It just keeps finding these surprises."
And get ready, because the actor said more surprises are coming.
For one, Naufahu has been teasing a possible romance between Daenerys and Khal Moro.
"He wants to be loyal to his traditions and the guys who've come before him, but there's also the animal instinct that he has. He really digs Khaleesi, as well," said Naufahu.
And as far as that shot from the trailer of Drogon flying over the Dothraki, Naufahu said, "All I can really say is there's gonna be some fireworks, and I think you'll all be pretty surprised with how things unfold in the next episodes."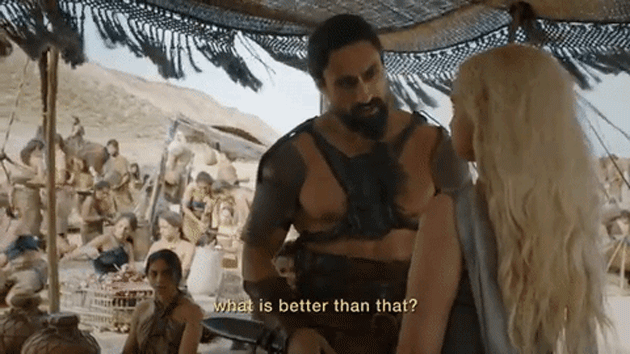 Read more: http://www.huffingtonpost.com/2016/04/26/game-of-thrones-star-says-theres-one-way-jon-snow-can-return_n_9788460.html