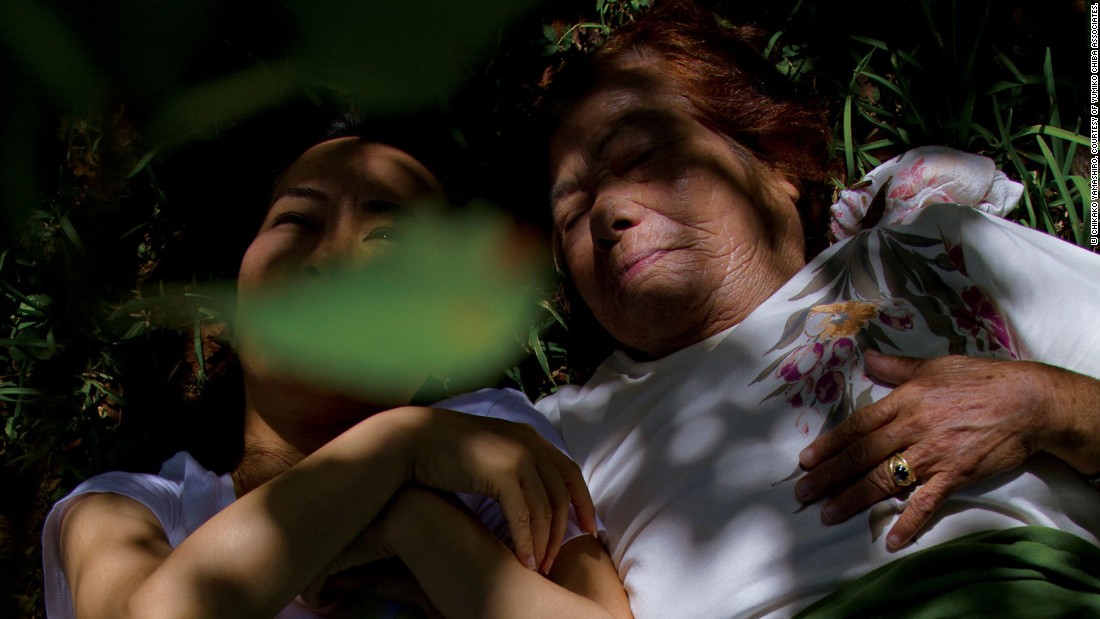 (CNN)Kyoto's annual Kyotographie photography fair is among the most exciting art fairs in Japan. Celebrating its fifth year with the theme of love, the fair has assembled a number of intriguing exhibitions that defy clich, presenting unconventional yet heartfelt interpretations.
Vintage photos of a bygone era
Paris'
Muse Guimet
displayed a selection of prints from the 19th and early 20th centuries dealing with courtesan and wedding customs.
<
ul class="cn" cn-list-hierarchical-xs cn–idx-6 cn-zoneadcontainer">
This kind of photography was largely made for export, but appealed to domestic audiences. The imagery — whether staged or not — captured a way of life that was fast disappearing as Japan moved toward Westernization.
When foreigners like Italian-British photographer Felice Beato arrived in the port and trade hub of Yokohama in the 1860s, he established a market for photography featuring Japanese customs. The photos (usually albumen prints) were often hand-colored by painters, and then bound in albums.
Popular themes included walled Yoshiwara pleasure quarter of Edo (now Tokyo), as seen in like "Front Gate of Yoshiwara" (1907-1911) by an anonymous photographer. Celebrity portraits were also in demand, as in the anonymous "Era Kayo, a famous Geisha of Kyoto" (1870s).
At the top of the courtesan pyramid structure were "oiran," revered for their entertainments in tea ceremony, poetry, dance and music.
Two images, "Tayu and Kamuro, Kyoto" (1910), show front and back views of the elaborately embroidered kimono of a high-ranking courtesan flanked by her assistants.
An endearing image of love among these, though one tinged with sadness, is "Ponta, a Famous Geisha of Shinbashi, Tokyo" (c. 1895) by Kajima Seibei. Ponta was a frequent portrait sitter for the photographer. Divorced and destitute, Seibei eventually married her, and the two spent their later years together in Kyoto.
New work from an old master
Nobuyoshi Araki
is Japan's most internationally recognized postwar photographer, perhaps best known for his provocative nudes and bondage scenes.
There have also been poetic series like "Sentimental Journey" (1971), a photo diary charting his honeymoon with his wife, Yoko, who died in 1990.
And yet the variant of shown at this year's Kyotographie is his love of photography, the motive behind his latest series, "A Desktop Love."
Araki arranged his personal collection of toys with potted plants on a desk at home, "spontaneously placing down things I like and photographing them," he said in a statement.
In one, naked, tied-up female figurines are posed on top of a coiling toy serpent with bloodied fangs, while blood-soaked dinosaurs attack from both sides. In another, a figure emerges from tropical plants.
A story of survival
Chikako Yamashiro
's works blend fictive and real-life elements from Okinawa, her birthplace, from the mid-20th century to its current occupation by the American military.
"Your voice came out of my throat" (2009) is a poignant oral history piece in video projection. In an empathetic exercise, the photographer retells the story of a survivor of the Battle of Saipan at the end of WWII.
The artist's face, tightly framed, initially mimics the mouth movements and facial expressions of the survivor's voice-over. He recalls tanks and starvation, and mass graves he calls "halls." He then speaks of watching his mother and sister jump to their deaths off the island's cliffs.
As Yamashiro's face is streaked by tears, the man's facial features are transposed on top of artist's. Subsequently, the man's experiences are internalized as Yamashiro begins to recount the man's experiences in her own voice.
"For a moment, my body was transformed into a screen that was dyed with the experience of the other," Yamashiro said. "What I saw at that moment was not the survivor's experience itself, but what I imagined from the words he had spoken."
Read more: http://www.cnn.com/2017/04/24/arts/kyotographie-2017-photography/index.html