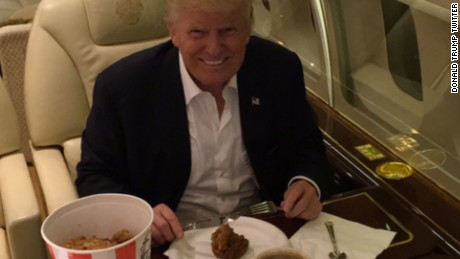 (CNN)Tastes may change with the times, but the public appetite for information on political leaders' menu choices is as voracious now as in the early days of the Republic.
Before Republican presidential nominee Donald Trump celebrated the end of a long day on the campaign trail with some fried chicken on his private jet, many of the Founding Fathers put a French accent on White House cuisine. Presidents Thomas Jefferson and James Monroe both spent years abroad before taking office.
<
ul class="cn" cn-list-hierarchical-xs cn–idx-4 cn-zoneadcontainer">
Others possessed simpler tastes, like Abraham Lincoln, who is
said by historians
to have enjoyed little more — and not much else, at least before dinner — than an apple and hot coffee.
In 1835, Colonel Thomas S. Meacham of Sandy Creek, New York, sent President Andrew Jackson
a 1,400-pound block of cheese
. Unable to consume it on his own, Jackson in 1837
opened the White House doors
to colleagues and the public, who set about chewing on the aged cheddar — and some of the political issues of the day.
More recent crops of presidential hopefuls have seen their dietary decisions put under a more exacting lens. Presidents Bill Clinton and George H.W. Bush possessed heartier appetites than provided for in the the more austere kitchen of President Ronald Reagan. Bush like
fried pork rinds
and made his aversion to broccoli
de facto state policy
.
Days before he was sworn into office in 1993, the New York Times
listed
Clinton's favorite foods: "Chicken enchiladas, tacos, barbecued ribs, cheeseburgers, lemon chess pie, peach pie, beef tenders marinated in Italian dressing and his mom's sweet-potato casserole" all made the list. During the 1992 campaign, the former Arkansas governor's eating habits became fodder for
Saturday Night Live
, which lampooned his wavering dedication to low-intensity exercises — like
jogging in very short shorts
.
President Barack Obama recently went on the record to rebut a story suggesting his personal discipline was such that he allowed himself no more or less than "seven almonds" for an evening snack. The number, he confirmed to NBC's Savannah Guthrie, might often range into the double digits.
A few months earlier, during a CNN town hall,
Trump dished
on his very public affinity for fast food. The product was good, he said ("great stuff") and the demands that come with efficiently running a multinational brand meant mostly satisfied his sanitary concerns.
"One bad hamburger, you can destroy McDonald's. One bad hamburger and you take Wendy's and all these other places and they're out of business," he explained to CNN's Anderson Cooper. "I like cleanliness, and I think you're better off going there than maybe some place that you have no idea where the food is coming from."
Since then, Trump has posted images of himself on social media celebrating campaign milestones with meals from
McDonald's
and
KFC
. He tried, as recalled in
a New York Times feature
published Monday, to win over Hispanic voters on Cinco De Mayo by tucking into a taco bowl at his desk in Trump Tower — then sharing a photo of it online.
Democratic nominee Hillary Clinton, too, has made no secret of her particular tastes. Unlike her husband,
a Vegan now,
after a quadruple bypass in 2004 and further heart troubles years later, the Democratic nominee still enjoys meat. That was evidenced by, among other
notable noshes
, her choice of a chicken burrito bowl during a
once-famous 2015 Chipotle run
.
In April, Clinton told the hosts of "The Breakfast Club," a New York-based hip-hop radio show, that she carried
"hot sauce"
with her everywhere she goes. For critics, it seemed a little on the nose — Beyonc had just released a song, "Formation," in which she disclosed
pretty much the same.
But even if there was some pandering there, Clinton's status as a fire-breather traces back much further. In January, she told
NPR
she began eating fresh jalapeo peppers on the campaign trail in 1992 and credited the habit as being "one of the reasons I'm so healthy and I have so much stamina and endurance out there today."
Read more: http://www.cnn.com/2016/08/08/politics/donald-trump-hillary-clinton-candidates-presidents-eating-habits/index.html