Didier Marouani, who founded disco band Space, detained with lawyer in bank in Moscow after row over songs with Philipp Kirkorov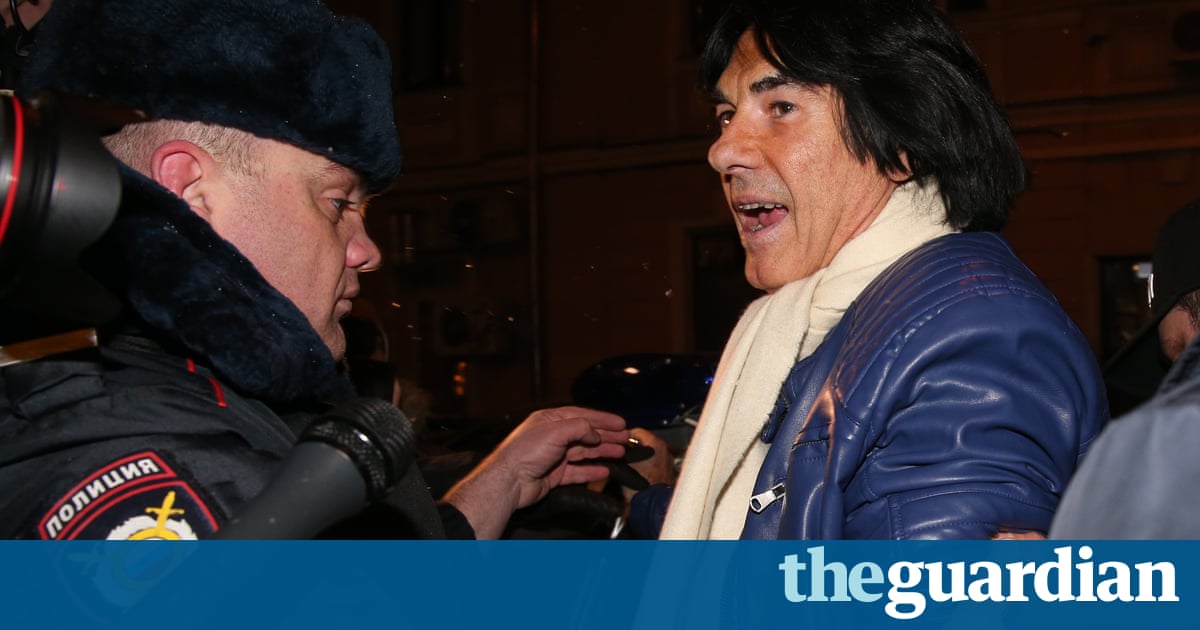 The leader of a cult French disco band has been detained in Moscow following a plagiarism dispute with a Russian pop star who recently made the news speaking about his long friendship with US president-elect Donald Trump.
Didier Marouani, who founded the band Space in 1977, was detained with his Russian representative Igor Trunov in a bank in downtown Moscow on Tuesday evening, state news agency TASS reported. The agency later published a photograph of the Frenchman inside the bank, scratching his head with a bemused look on his face.
The lawyer for Russian pop star Philipp Kirkorov said Marouani and Trunov had been detained on suspicion of extorting 1m from his client. Kirkorov was reportedly questioned by the police while the two were still in the bank.
The pop stars squabble stems from a plagiarism lawsuit Marouani brought in a Moscow court this month, alleging that Kirkorovs song Cruel Love was partly copied from the Space tune Symphonic Space Dream. The French group sought 75.34m roubles (925,000) in damages and a ban on Kirkorov performing his 2002 hit.
The Russian side dismissed the accusations as a PR ploy, and Cruel Loves composer, Oleg Popkov, claimed that it had been registered in the Russian Authors Society in 2000, two years before the Symphonic Space Dream came out. Its still not clear who stole from whom, he told state news agency RIA Novosti.
A Moscow court rejected Marouanis lawsuit, saying it had no jurisdiction to try it, and Trunov said they might go to a US court. But on Monday, he told TASS that after three days of negotiations Kirkorov had consented to pay Marouani compensation.
The French musician flew to Moscow the same day, although Kirkorovs lawyer soon denied that an agreement had been reached. Police were waiting in the bank where the French side had come in the expectation of signing a settlement.
Kirkorov told the tabloid Life that Marouanis accusations forced me to appeal to law enforcement and ask for protection from the state, so that they would shield me from such insinuations.
A staple of the pop scene since the late Soviet era, the flamboyant Kirkorov was outspoken in his support of Trump during the US election. He told the Guardian he had known Trump since 1994 and that the two had found common ground talking about the beauty of Russian and American women.
Space had a hit in the UK with Magic Fly in 1977, but have enjoyed more long-lasting popularity in eastern Europe, where they still occasionally tour.
Read more: https://www.theguardian.com/world/2016/nov/29/french-pop-star-detained-in-moscow-after-plagiarism-row-with-russian-singer