The leader of Alternative fr Deutschland has been called Adolfina, praised Donald Trump and criticised Germanys Muslim international footballer Mezut zil. Is the countrys most talked-about politician a serious contender for office?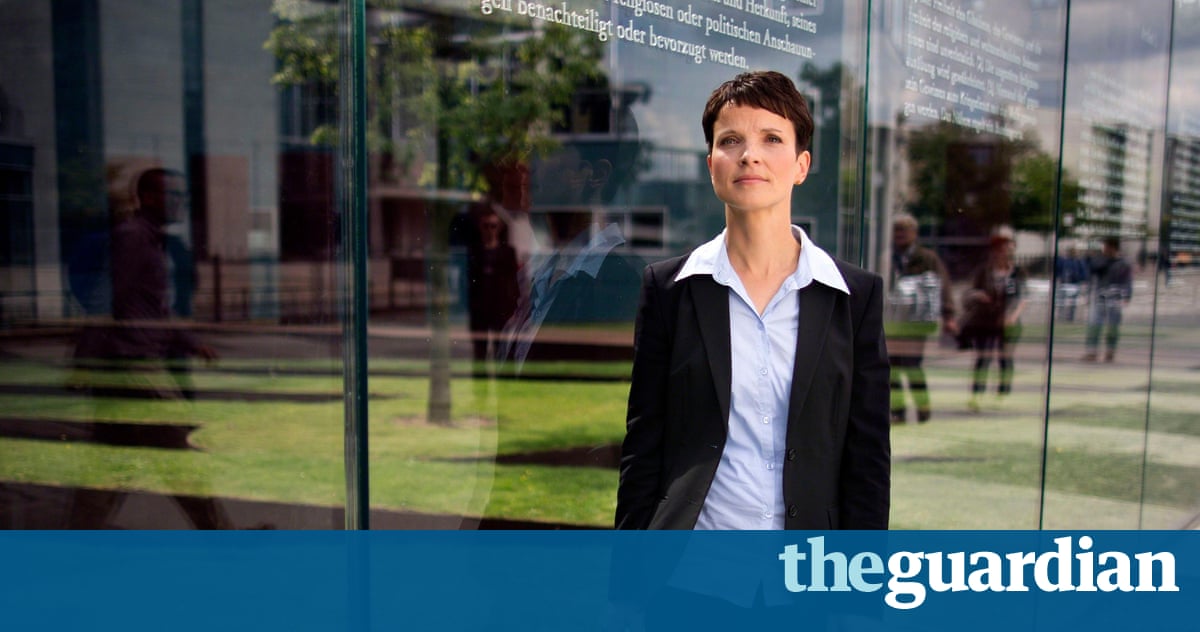 Frauke Petry is, unusually for her, a little flustered. The 41-year-old politician has turned up for a television interview very late, wearing a checked shirt, a no-go for the camera, she quickly realises. Swiftly changing into a cream jacket borrowed from the TV presenter, she pleads for the camera not to show her scuffed boots. It was all a bit of a dash this morning, she admits afterwards. Two of her four children are at home sick on the sofa, headache, stomach ache and she didnt want to leave them until she knew they would be OK on their own.
But this, she insists, is how she wants it to remain, with family as her number one priority, despite her swift rise up the political ladder since becoming leader of the Alternative fr Deutschland (AfD). After dramatic gains in Marchs regional elections, it is now the most threatening challenger to Angela Merkels coalition government, and she is the most talked-about female German politician after thechancellor.
Its not a problem as such, being a woman in politics in fact, its easy to move up precisely because youre in a minority, she says. The problem has to do with actually managing to still see your children and to look after them.
Time management, she says, has become even more crucial since she recently separated from her husband, a Lutheran pastor, and formed a romantic attachment with the AfDs representative in the European parliament, Marcus Pretzell, himself a father of four, who has advocated forming closer ties with Frances Front National. Before last summer I left family almost completely to my husband, but since the autumn we have separate times with the children. So Im forced to organise my appointments so I can have breakfast with them, take them to school, read the goodnight story, all that normal stuff.
Its hard to reconcile this woman affable, intelligent, quoting philosophy and making references to classical music with the cold, hardboiled image she has projected since she became the partys de facto leader last year.
AfD has a strong profile in the former communist east of Germany but a growing following in western parts as well. She calls the party liberal-conservative, rejecting labels such as rightwing populist, far right, anti-immigrant
The idea of the party is embodied in its name, Alternatives, she says, a response to Merkels repeated insistence that her policy on the euro was alternativlos (without alternative). Basically we are a very necessary corrective in German and European politics.
She predicts that, like the far-right Freedom party (FP) in neighbouring Austria, the AfD will benefit from a breakdown of the big parties.
But any attempts she makes to dismiss the far-right labels might seem hollow after the partys recent announcement of a European alliance with the FP. True, our meeting with the FP could be seen as moving the party to the right, but on the other hand the FP is something you just cannot ignore from a German point of view because its so near in terms of language and political structure it would be stupid not to talk to each other. We found similar characteristics with other parties, whether the Danish Peoples party, the Swiss Peoples party, the Sweden Democrats, the True Finns, also the Front National, she says.