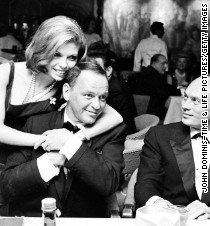 (CNN)I remember when I first pulled the pages from the manila envelope.
And why I remember Father Sinatra.
<
ul class="cn" cn-list-hierarchical-xs cn–idx-4 cn-zoneadcontainer">
Not Father in the ecclesiastical sense. Definitely not. When Frank Sinatra played a priest in the 1948 film "Miracle of the Bells," the public outcry over his alleged Mafia connections was so great it brought an announcement that he would donate his $100,000 fee to the Catholic Church.
The other kind of father. Biological. Or "Pop," as he put it in the column he wrote for Father's Day, which appeared in the Chicago Daily News June 21, 1947. And while the Daily News had a healthy circulation, I'm probably the only one who remembers it, because he wrote it at my request — a guest column to run in place of my column. Mine being directed to high school and college students, and this being the bobbysox era, it was appropriate with a capital A.
The years turned into decades … that brought "Strangers in the Night," "In the Wee Small Hours of the Morning," "My Way," "Come Fly With Me," "New York, New York" — played at Yankee Stadium after 9/11 and in Times Square after the ball drops New Year's Eve — "I've Got the World on a String," "Witchcraft," "The Summer Wind," and … and ….
The music wasn't overlooked in The Charlotte Observer story on his death, on May 14, 1998. "Frank Sinatra, the best pal a song ever had …. cracked open his heart," wrote Tommy Tomlinson. "He took some of the finest songs ever written and used them as flashlights, exploring every chamber and crevice of romantic love."
Robert Christgau, longtime music critic for The Village Voice, called him "the greatest singer of the 20th century."
Or, as Bono put it: "He's the Big Bang of Pop."
Precisely.
Read more: http://www.cnn.com/2016/06/19/opinions/sinatra-fathers-day-column-lauder/index.html