Musician who played on bands most successful albums thought to have suffered heart attack during session with his band OHM at jazz club in Los Angeles
The former drummer with the US thrash metal band Megadeth, Nick Menza, has died after collapsing on stage at a gig in California. Menza, who was 51, is said to have suffered a heart attack during one of his regular sessions with his band OHM at a small Los Angeles jazz club, the Baked Potato.
Menzas management issued a statement confirming the news. Nick collapsed during the third song into a set with his band OHM. Earliest reports indicate he suffered a massive heart attack and was pronounced dead upon arrival at hospital.
The club posted RIP Nick Menza on its Facebook page in the early hours of Sunday. Dave Mustaine, co-founder of Megadeth, said on Twitter that he awoke at 4am to the news. Tell me this isnt true, he wrote.
Marty Friedman, the former Megadeth guitarist, wrote on Facebook: We all know the great and unique drummer that Nick Menza was, but he was also a trustworthy friend, a hilarious bandmate, as well as a very loving dad. Im beyond sad, did not see this coming at all. RIP Brother.
Menzas biographer J Marshall Craig said We ask for prayers for Nicks family, his family, and especially his two sons and their mother, Teri.
He just spend nearly two weeks with the boys in the Pacific north-west and was absolutely glowing. He was scheduled to fly to my home in Cape Cod tomorrow so that we could finish the comic-book version of the book we wrote on his life, MenzaLife, both of which were slated for release late next month. This morning we are all too numb to think about anything but Nicks family.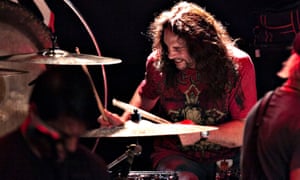 Read more: https://www.theguardian.com/music/2016/may/22/nick-menza-megadeth-drummer-dies-collapsing-stage-los-angeles