Former mail carrier Douglas Hughes was sentenced to 120 days for the flight that he said was a way to call attention to the influence of big money in politics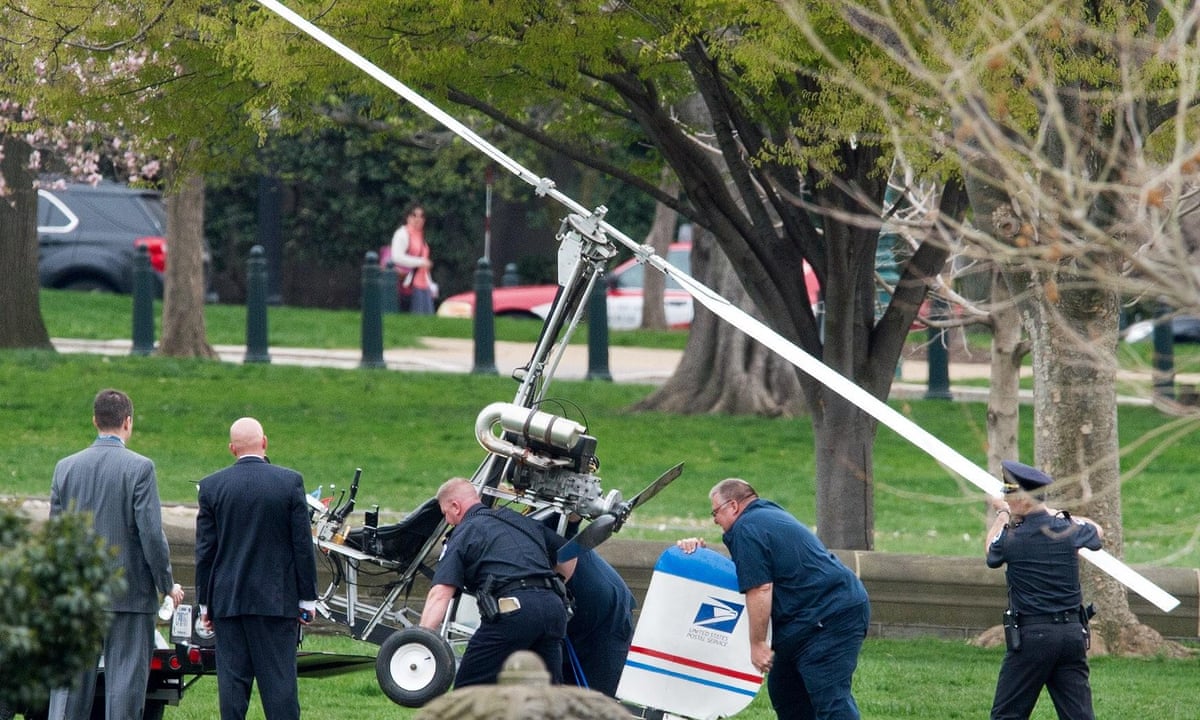 A man who piloted a one-person gyrocopter through some of the most restricted US airspace and landed on the lawn of the Capitol in Washington has been sentenced to 120 days behind bars.
Florida resident Douglas Hughes was sentenced Thursday in federal court in Washington by Judge Colleen Kollar-Kotelly. Hughes has said his April 2015 <a draggable="true" href="http://www.theguardian.com/us-news/2015/apr/15/gyrocopter-us-capitol-lawn-florida-mailman-campaign-finance-protest" data-link-name="in" body link" data-component="in-body-link" class="u-underline">flight in the bare-bones aircraft, which began in Gettysburg, Pennsylvania, was a way to call attention to the influence of big money in politics.
Hughes pleaded guilty in November to a felony for operating a gyrocopter without a license.
Prosecutors asked he be sentenced to 10 months in prison, arguing that the former mail carrier from Ruskin, Florida, put countless lives at risk. Hughess attorneys argued he should be allowed to remain out of jail.
Hughes was carrying letters for each member of Congress on the topic of campaign finance and the tail of his aircraft had a US postal service logo.
In a court document they filed ahead of the sentencing hearing, prosecutors argued Hughess flight put unsuspecting people in real danger, disrupted operations at the United States Capitol, and demonstrated a profound disrespect for the law and the legitimate rights of others. Hughes craved attention and violated important public safety laws because he wanted people to pay attention to his political views, they wrote.

Hughess attorneys said he should have been allowed to remain out of jail. Their statement to the court underscored that no one was injured as a result of Hughess flight. They called the stunt an act of aerial civil disobedience and a freedom flight and said it was in the nations proud tradition of nonviolent civil disobedience.
The attention his flight gained, Mr Hughes hopes, will force the nation to finally confront the issue of campaign finance rather than continue to ignore the problem. For this reason, Mr Hughes should be considered a hero for his conduct, his attorneys wrote.
Hughess attorneys and prosecutors disagree about how much danger the public was in as a result of his flight. Prosecutors wrote Hughes had close encounters with several aircraft and flew dangerously close to a commercial flight departing a Washington-area airport. Hughes calls it a fabrication that he almost collided with the commercial flight.
Read more: http://www.theguardian.com/us-news/2016/apr/21/gyrocopter-us-capitol-douglas-hughes-sentenced