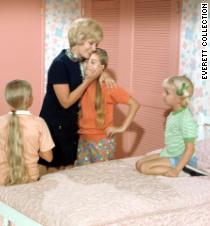 (CNN)Despite having a career which spanned more than half a century, Florence Henderson was most known for her role as Carol Brady.
And the prodigious actress was more than okay with that.
<
ul class="cn" cn-list-hierarchical-xs cn–idx-4 cn-zoneadcontainer">
"For me 'The Brady Bunch' is just a part of the fabric of my career, but for a lot of people, that's it,"
Henderson said in a 2011 interview.
"I kept performing through 'The Brady Bunch' and still do. It doesn't bother me. If I hadn't been allowed to do that it may have."
That blurred line between Florence Henderson and Carol Brady is the reason there has been an outpouring of grief over Henderson's death on Thursday from heart failure.
One person tweeted "Florence Henderson? Great, now 2016 killed our mom. :("
Henderson was so good at portraying the sunny, loving Mrs. Brady that it was easy to forget her role on the show was a character — and one which broke ground.
The "Brady Bunch" offered America — and pop culture — its first blended TV family. It was a story about widow and widower with three children each, who create a new family together. Carol and Mike Brady were also the first TV couple shown in bed together.
It was a role Henderson was almost too busy to take.
She was on the road when she got the call to audition for Paramount for the series. And shooting "Song of Norway" when the pilot was sold.
Henderson told the Television Academy in 2014 that it helped she was also the mother of four young children at the time. She also said the show was hard work and the cast embraced it.
"We believed every word we said," Henderson recalled. "I don't think you can parody something unless it has been done incredibly truthfully."
Viewers believed it too, which is why she became so beloved.
It's also why fans were stunned when Henderson revealed personal info, including the fact that as an octogenarian, she had a "friend with benefits."
Carol Brady, having sex? Shocking!
While appearing on "Today" last year, Henderson said she didn't "get the memo" that she was supposed to be slowing down with age. She continued to work out with a trainer and enjoy the company of a male friend.
"If we're lucky, we all get older, but we don't have to get old," the former "Dancing With the Stars" contestant told Matt Lauer.
Read more: http://www.cnn.com/2016/11/25/entertainment/florence-henderson-america-mom/index.html