<figure class="media-landscape" has-caption full-width lead">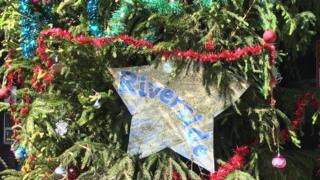 Image caption Christmas celebrations are taking place to thank people who helped during the floods – which devastated the area six months ago
People in Hebden Bridge, Mytholmroyd and Cragg Vale are celebrating "the Christmas that never was", six months after flooding devastated the area.
Thousands of homes and businesses in the region were damaged when Storm Eva battered the north of England during December's floods.
Organisers said it was an opportunity for the whole community to have a proper party.
The event features six snow machines and Christmas trees.
<figure class="media-landscape" has-caption full-width">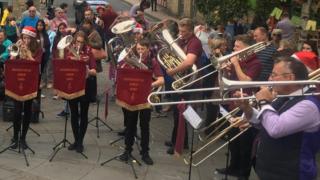 Image caption A brass band played to mark the occasion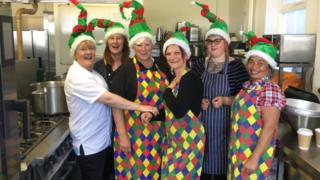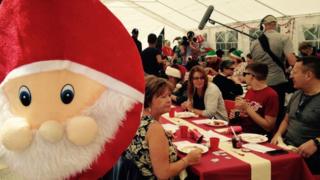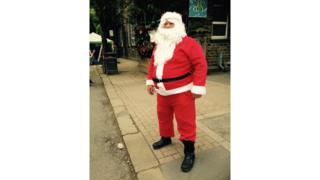 There will also be a Christmas lunch for volunteers who helped when the floods hit, with an unseasonal visit from Santa and a festive-themed market with live entertainment, including brass bands and choirs.
Organisers said: "It is our way of saying thank you to all the volunteers who helped on Boxing Day, and in the weeks that followed."
About 500 people are expected to attend a Christmas lunch event at Riverside School in Hebden Bridge.
During the December floods, a bus was swept down the street and sandbags were ripped up due to the force of the water running through the town.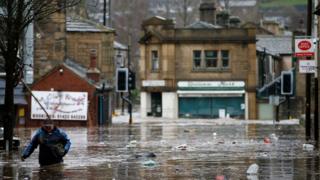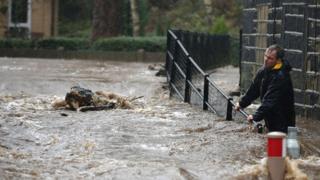 Read more: http://www.bbc.co.uk/news/uk-england-leeds-36629089