<figure class="media-landscape" has-caption full-width lead">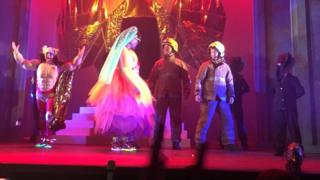 Image copyright ColinMcCredie

Image caption They're behind you! Firefighters on stage during the Perth Theatre pantomime
The first performance at Perth Theatre in four years defied all expectations when two real-life firefighters appeared on stage.
A smoke alarm mid-way through Aladdin on Saturday forced the evacuation of the Edwardian theatre which has just had a £16.6m refurbishment.
After checks to the building, the show resumed with one of the actors carried back on stage by the firefighters.
The theatre management blamed a "snagging" fault for the alarm.
<figure class="media-landscape" has-caption full-width">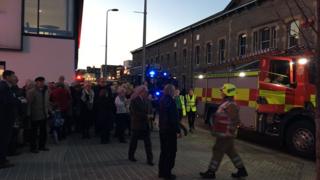 Image copyright Tricia Fox

Image caption Theatregoers enjoyed some unexpected excitement
Gwylym Gibbons, chief executive of Horsecross Arts which runs the theatre, said: "There was a lovely moment when the firefighters came on stage, carrying one of the cast members.
<
div id="bbccom_mpu_1_2_3″ class="bbccom_slot" mpu-ad" aria-hidden="true">