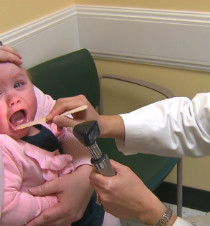 (CNN)Parents may have fewer options to soothe their teething child.
<
ul class="cn" cn-list-hierarchical-xs cn–idx-4 cn-zoneadcontainer">
Hyland's,
the company that says it has the best-selling version of the tablets, stands by it, and there is no recall. But CVS, one of the drug store chains that sells Hyland's, Baby Orajel Naturals and its own version of the product,
has pulled them from the shelves.
Here's what you need to know.
<
div class="zn-body__read-all">
What are homeopathic teething tablets and gels?
These tablets have been around since the early 1900s and temporarily provide relief to a baby who's getting their first teeth. Hyland's tablets "make nights bearable, days livable, and truly make the teething years way more groovy," it says on its website.
In the case of Hyland's, the active ingredients are calcarea phosphorica, which helps with teeth formation; chamomilla, meant to help with the baby's irritability; coffea cruda, to help the baby's sleeplessness; and belladonna, commonly known as
deadly nightshade
, which helps ease the redness, inflammation and discomfort from teething.
Why is the FDA concerned?
The FDA is looking into reports of adverse events related to the products, including children who may have had seizures after using them. The agency warns that the tablets and gels "may pose a risk" to infants and advises parents to take their child to a doctor immediately if they experience these seizures or difficulty breathing, lethargy, muscle weakness, excessive sleepiness, constipation, skin flushing, agitation and/or constipation.
What else is the FDA doing?
<
div class="el__embedded" el__embedded–standard">