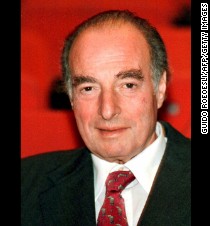 Washington (CNN)The FBI on Tuesday — one week from Election Day — released heavily redacted files from its 2001 investigation of President Bill Clinton's pardon of Marc Rich.
The release — issued by an automated FBI Twitter account — quickly drew complaints from Democrats who have assailed FBI Director James Comey for his decision last week to tell Congress the bureau was reviewing emails potentially related to Hillary Clinton's private server. The bureau has been accused by some of meddling in the final days of a hard-fought election.
<
ul class="cn" cn-list-hierarchical-xs cn–idx-4 cn-zoneadcontainer">
The FBI's tweet led some to conclude the documents were related to the Clintons' charitable foundation, but the tweet was referring to Bill Clinton's presidential library, which is governed by the William J. Clinton Foundation.
The bureau Tuesday posted 129 pages from its 2001 investigation of Rich, a former hedge-fund trader who had been indicted on multiple counts of tax evasion.
Bill Clinton pardoned Rich on his last day in office, one of his most controversial decisions as president. The FBI closed its investigation of Clinton's pardon for Rich in 2005 and no charges were filed against the former president.
"Absent a (Freedom of Information Act) litigation deadline, this is odd. Will FBI be posting docs on Trump's housing discrimination in '70s?" tweeted Brian Fallon, a spokesman for Clinton's campaign.
The FBI defended its actions in a statement Tuesday evening.
"The FBI's Records Management Division receives thousands of FOIA requests annually which are processed on a first in, first out basis," the bureau said. "By law, FOIA materials that have been requested three or more times are posted electronically to the FBI's public reading room shortly after they are processed. Per the standard procedure for FOIA, these materials became available for release and were posted automatically and electronically to the FBI's public reading room in accordance with the law and established procedures."
The release was posted on Twitter by @FBIRecordsVault, an account that posts material from FOIA requests on subjects of public interest.
Prior to Sunday, the account hadn't tweeted since October 2015. A law enforcement official told CNN that the Twitter account is an automatic feed and the tweets are not done manually. The official said the feed was down for a year until Sunday, when it was fixed and then began tweeting automatically.