The boogie-woogie master, who has died aged 89, shaped the course of popular music over and over again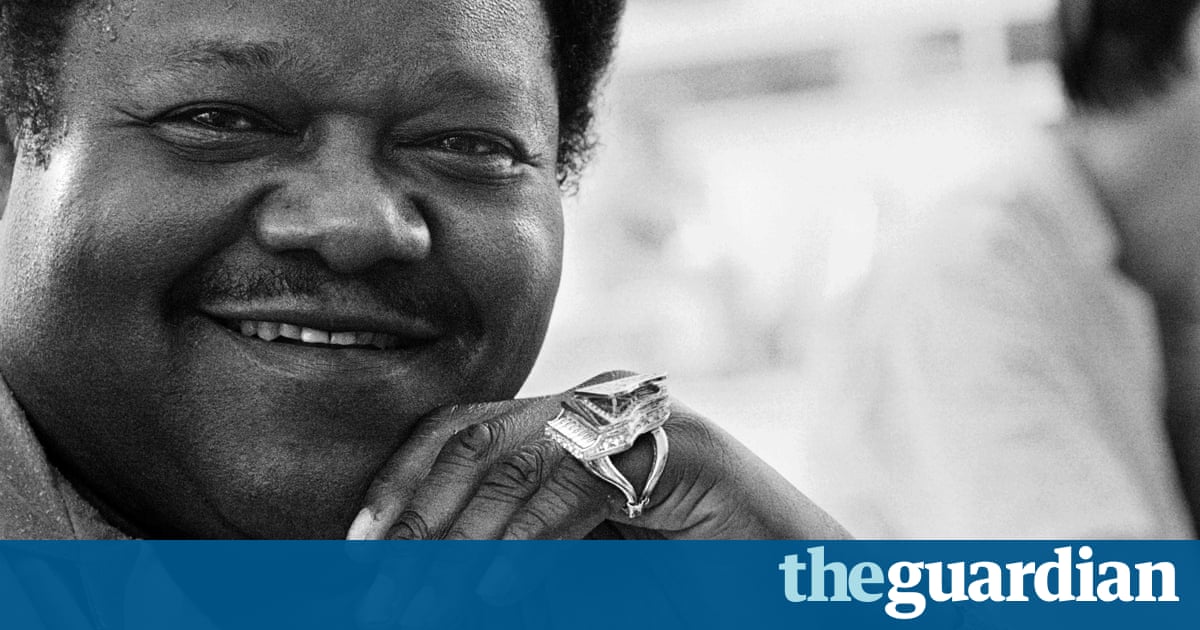 You could argue for the rest of your life about what constitutes the first rocknroll record and, indeed, on the internet, there are people prepared to do that. An exhaustive 82-track 2011 compilation comes up with candidates for the title, with varying degrees of plausibility, and with tunes dating back to 1915.
But Fats Dominos 1949 single The Fat Man has a stronger claim than most. Based on Junkers Blues, a 1940 track originally recorded by Champion Jack Dupree, theres almost nothing to it. A pounding, unchanging backbeat and an insistent bass pulse; Domino on piano, playing in a style noticeably more aggressively than that of his peers; saxes and guitar buried so deep in the mix that you barely even spot them until the songs finale; some falsetto scat singing and three verses that replace Junkers Blues references to cocaine, reefers and heroin with lyrics that laud both Dominos bulk and his irresistible sexual abilities: I weigh two hundred pounds, all the girls love me, because I know my way around. It sold a million copies and transformed Domino overnight from the pianist in Billy Diamonds Solid Senders, a locally popular New Orleans band, into a star.
In later years, Elvis Presley proclaimed him the real king of rocknroll, but in truth, Domino was an exemplar of boogie-woogie, a style that had been big since the 1920s some musical historians claim its roots stretch back into the 19th century that he had been taught by his brother-in-law, a jazz musician. Nevertheless, The Fat Mans stripped-back potency had something of the future about it: it fitted so well with rocknroll that it turned up six years after it was recorded on Dominos debut album, Carry on Rockin With Fats Domino.
By then, Elvis Presley had signed to a major label and Little Richards Tutti Frutti was in the charts. Clearly sensing which way the wind was blowing, and the fact that he might have unwittingly predicted its change of course, Domino skilfully transitioned into a rocknroller. His debut album was swiftly retitled Rock and Rollin With Fats Domino, he appeared in the exploitation movies The Girl Cant Help It and Shake Rattle and Rock, and released a peerless run of singles, all deeply rooted in the jazz and R&B of New Orleans, but sufficiently in tune with new musical developments to make not only the R&B charts but the US Hot 100, too a not-inconsiderable feat for a black artist in 50s America. Those singles included Aint That a Shame, Im Walkin, Blue Monday, Im in Love Again, and Blueberry Hill, the latter a cover of a 40s jazz standard previously recorded by Glenn Miller that became Dominos signature song.
Domino was not a wild musical insurrectionist in the style of Little Richard or Jerry Lee Lewis when a riot broke out at a gig in Fayetteville, North Carolina, he climbed out of a window to get away. But his influence proved vast, not least on the Beatles. Aint That a Shame was the first song John Lennon learned to play, Paul McCartneys Lady Madonna was created in Dominos image, the band visited Domino to pay homage and were impressed by his love of what would later be called bling boggling at a jewel-encrusted watch on his wrist.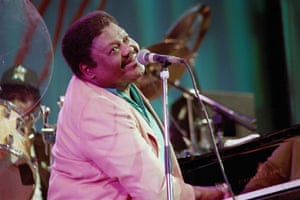 Read more: https://www.theguardian.com/music/2017/oct/25/fats-domino-giant-talent-inspired-ska-beatles-bling-89-boogie-woogie