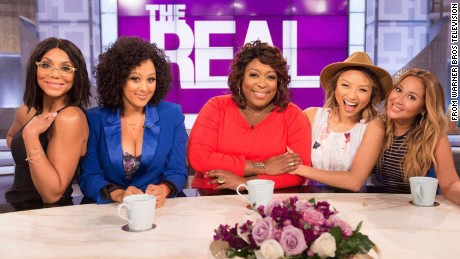 (CNN)Things have gotten really real on "The Real."
It all started when one of the talk show's co-hosts, Tamar Braxton, took to Instagram with a picture of her sister singer Toni Braxton hugging her and a caption that began, "I love u all but I have been stabbed in the back by someone I stupidly trusted (not my man or my sisters)."
<
ul class="cn" cn-list-hierarchical-xs cn–idx-4 cn-zoneadcontainer">
"I am not about to be tried and tested to snitch and it's not in good taste to tell you who…… but as #tamartians you are very smart and can figure things out on your own," Tamar Braxton wrote. "But know that every one who smiles in your face is NOT your friend and is NOT cheering for you and will LIE and try and tear u down to TRY and dim your light."
I love u all but I have been stabbed in the back by someone I stupidly trusted ( not my man or my sisters) I am not about to be tried and tested to snitch (:eyes:) and it's not in good taste to tell you who…… but as #tamartians you are very smart and can figure things out on your own. But know that every one who smiles in your face is NOT your friend and is NOT cheering for you and will LIE and try and tear u down to TRY and dim your light. Thank GOD HE HOLDS MY FUTURE AND MY HAND! (Remember who u are)….I am Tamar Braxton. And if you thought for 1 sec u played me…..In the late great prince and the amazing Beyonc voice you PLAYED yourself:joy: to God be the Glory and I will be taking a short break from ALL social media…until then:heart: yourself and WATCH YOUR BACK ( I put this picture up cause this is the embrace I got from my sister and best friend that she ALWAYS gives when she knows I've been had)
Her posting came amid reports that she had been fired from the talk show, leading some to speculate all was not well among the co-hosts, which also include Tamera Mowry-Housley, Loni Love, Jeannie Mai and Adrienne Bailon.
The Fox show, which debuted in 2013, has since confirmed that Braxton will not be returning for the third season.
Braxton, a singer who also stars on the WEtv reality series "Braxton Family Values" with her sisters and "Tamar & Vince" with her husband, record executive Vincent Herbert, is said to be leaving to focus on her music career.
But viewers have noticed that in her final days Braxton did not appear to bewillingly leaving her talk-show gig.
One viewer wrote, "LOOK at Tamar. She ain't faking it," in a tweet that included a video of the show's opening with a less-than-enthusiastic Braxton taking the stage with her co-hosts.
Some who are unhappy with the decision have trolled the social media of the other co-hosts, including Love. On Tuesday, Love posted a video on her official Facebook page saying she received a group text from Braxton saying she had heard she was being fired.
The comedian denied she had anything to do with Braxton being asked to leave the show or knew anything about it.
"When we wrapped our show for season 2 we had a photo shoot, Tamar was part of that," Love said. "We were planning on going to Essence (Music Festival this summer in New Orleans), she was part of that so there was no indication that Tamar was going to be let go."
Fans have definitely been split into two camps: those who think Braxton was stabbed in the back and those who are happy to see her go.
Braxton, who was forced to drop out of "Dancing With the Stars" in 2015 after she developed blood clots in her lungs, has an outspoken supporter in co-host Mowry-Housley.
The former "Sister, Sister" star posted a photo of herself with Braxton on Instagram with a caption that read in part, "Tay Tay. Words can not express how much I will miss working with you side by side."
Tay Tay. Words can not express how much I will miss working with you side by side. You could always count on our end of the table to be hilarious because of our genuine banter. Our differences didn't separate us. It actually brought us together. Beautifully. I knew I could always count on you to make me laugh. But not just any laugh. That belly laugh. Thank you for understanding me always. In front of the camera but most importantly behind. Love you. Always.
"Thank you for understanding me always," Mowry-Housley wrote. "In front of the camera but most importantly behind. Love you. Always."
Read more: http://www.cnn.com/2016/05/25/entertainment/tamar-braxton-the-real/index.html