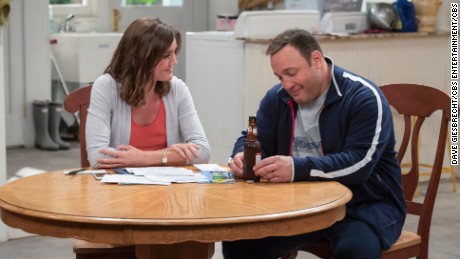 (CNN)Television keeps changing, but the major networks continue to embrace the idea of premiere week, trotting out a host of new and returning shows beginning in mid-September.
In terms of new series, the popular themes this season include escapism, nostalgia (in the form of reboots, movie adaptations and returning stars) and a bit of silliness. Longer reviews of several newcomers will post later, but here's a quick breakdown of some the rest of the week's offerings, ranging from "promising" to "don't bother."
Kevin Can Wait (CBS, September 19, 8:30 p.m.)
<
ul class="cn" cn-list-hierarchical-xs cn–idx-4 cn-zoneadcontainer">
CBS is clearly hoping that Kevin James can replicate the success he enjoyed in "The King of Queens," so much so that they've scheduled his new sitcom on the same night — as if hoping that viewers won't recognize the difference.
James' appeal will be put to the test by this tired comedy, in which he plays a cop who's about to retire, grappling with the customary indignities and challenges from his beautiful wife (Erinn Hayes) and three kids. CBS is introducing the show behind TV's most popular sitcom, "The Big Bang Theory," which should boost sampling. Creatively, though, the best thing to be said about this inoffensive throwback is that it's better than "Paul Blart: Mall Cop."
MacGyver (CBS, September 23, 8 p.m.)
More than 30 years after its premiere on ABC, "MacGyver" gets new address adjacent to another revival, "Hawaii Five-0." CBS, however, has basically just slapped fresh paint on an old vehicle, with a series that, much like "Scorpion," weds braininess with spy hijinks, in a light, action-oriented hour that's breezy to the point of weightless.
Lucas Till (from the recent "X-Men" movies) assumes the title role, rigging fantastic gadgets on the fly to escape perilous situations, with the requisite crack team helping him save the world.
At one point MacGyver calls making a gizmo "DIY or die," the most inventive line in a ho-hum revival that, despite its title character's signature skills, clearly has no intention of reinventing the wheel — or much of anything else.
Read more: http://www.cnn.com/2016/09/19/entertainment/fall-tv-previews/index.html