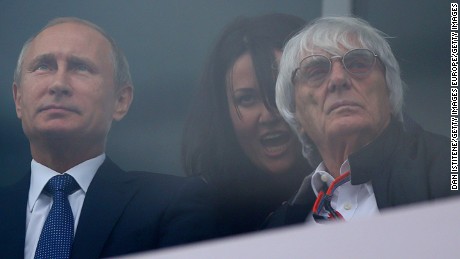 (CNN)Billionaire Bernie Ecclestone has led the world's biggest motorsport for the last four decades but, at the age of 85, is it time for Formula One to look for a new driving force?
At the start of 2016, Ecclestone claimed F1 was
"the worst it's ever been"
after two years of Mercedes dominance, and that he wouldn't bother buying a ticket.
<
ul class="cn" cn-list-hierarchical-xs cn–idx-4 cn-zoneadcontainer">
"Sooner or later, F1 has to think how to replace Bernie," former Ferrari president Luca di Montezemolo told
CNN's The Circuit
ahead of this weekend's Canadian Grand Prix in Montreal.
"Bernie is a fantastic person. It will be impossible and a mistake to find one man to replace him — it's important to think of a new governance."
Di Montezemolo is not alone in his opinion that it is time for a sea change.
The
Grand Prix Drivers' Association
, in a statement signed by world champions Sebastian Vettel and Jenson Button, has also called for the sport's structure to be changed.
"The drivers have come to the conclusion that the decision-making process in the sport is obsolete and ill-structured and prevents progress being made," the drivers said in March.
He was thrown straight into an intoxicating world where heroic drivers such as Niki Lauda and James Hunt were driving for glory in an era when the dangers were almost as high as the speeds.
He says the sport needs to remember its history as it strives to remain relevant in the 21st century.
"F1 has to remain an extreme sport," Di Montezemolo insists. "Today the cars are too slow.
"I was totally unhappy when I heard the music of the engine was not as in the past, not because I'm nostalgic but because every sport has its ingredients. Can you imagine Italy without pasta?
"F1 is extreme technology and extreme performance. Safety is our first goal, but you need the music of the engine, you need more contact between the public and the drivers … there are lots of ingredients."
Asked by CNN whether he was the right man to get F1 back on track, the 68-year-old responded: "I would be the best in the world to do this, but maybe it's time for someone else."
Rome Olympics bid
In the inner sanctum of Di Montezemolo's office in Rome, it was clear, for now, he has enough on his plate leading the capital's bid to host the
2024 Olympics.
"Rome is another challenge, a different challenge" he says. "We have a competition with (Hamburg), Los Angeles, with Paris and Budapest but Rome is Rome.
"We can count on many important ingredients, including Rome's magic and Italy itself.
"We want to present an event with three different ingredients; the best festival of sport, the culture and history of Rome and last but not least innovation.
"Rome is the capital of Italy but I see in the town people who are really happy to finally to have a goal, a challenge because passion, capability to organize and the art of welcome is in our blood."
Golf and rugby sevens have been added to the roster at the 2016 Olympic Games in Rio de Janeiro, but could motorsport muscle its way onto the Games' starting grid?
"Why not, why not?" Di Montezemolo says. "To put together the Olympics tradition with very strong, innovative technology could be an intelligent possibility in the future.
"It could be F1 or it could be something else? But motor racing is part of the modern world."