The art dealer Richard Bellamy isnt exactly a household name, but he discovered the most celebrated names of the New York scene, a new biography reveals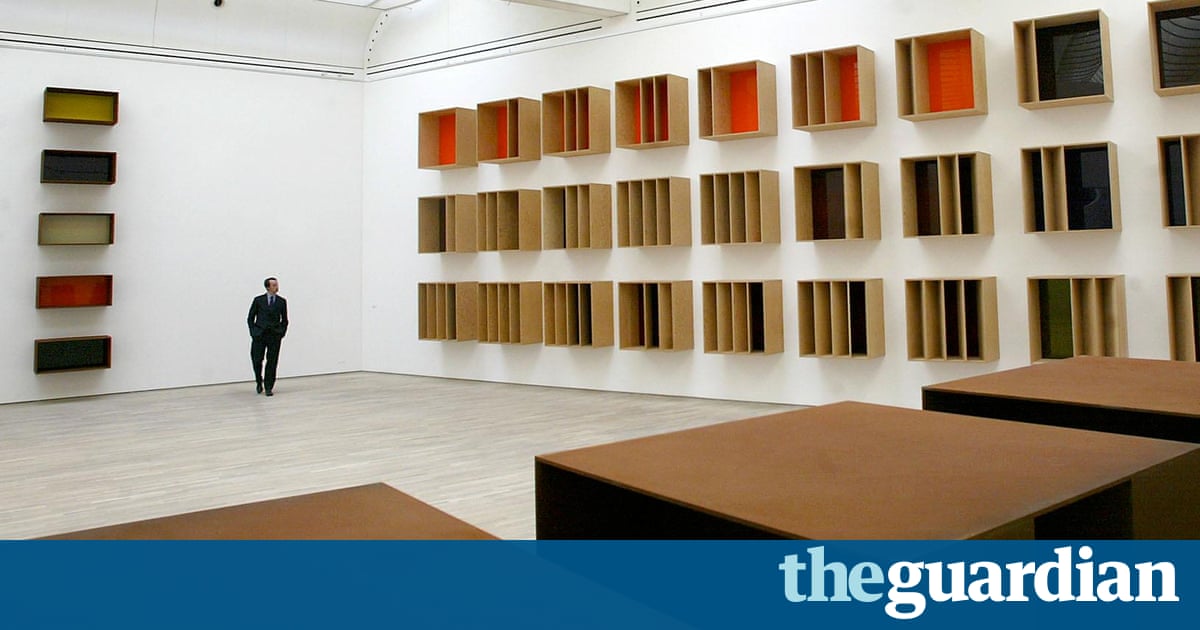 Two complementary archetypes dominate the story of New Yorks ascent to art world supremacy in the decades after the second world war: the inscrutable artist, from Andy Warhol to Jeff Koons, and the savvy dealer. It was Leo Castelli who perfected the latter role in the 1950s and 60s, though Larry Gagosian has since stretched it to an imperial extreme as owner of a global gallery chain this paper once called the Starbucks of contemporary art.
All of these men are much better known to casual gallery-goers than the subject of Judith E Steins scrupulous biography Eye of the Sixties: Richard Bellamy and the Transformation of Modern Art. Bellamy was a dealer with the enigmatic personality of an artist, and a visionary who launched the careers of such movement-defining figures as Claes Oldenburg, Mark di Suvero and Donald Judd. But his inability to convert masterpieces to paychecks reduced his legacy to a footnote. In rescuing him from obscurity, Stein constructs an alternative history of New Yorks mid-century art world that keeps Warhol on the periphery and privileges creative breakthroughs over record-breaking sales.
Stein spent two decades piecing together his life story, having begun work on the book (which Bellamy tried to dissuade her from writing) well before his death in 1998. He was born in 1927 to a Chinese mother and a white American father. Bellamys mixed-race parentage made him an outsider in his suburban Cincinnati hometown, and he coped by cultivating a dreamy, distant persona. After dropping out of college, he found his people and learned about abstract expressionism in the Provincetown, Massachusetts, art scene. That he happened to be in town for Forum 49, an influential series of cultural events in the summer of 1949, was the first manifestation of his karmic propensity to be in the right place at the right time, Stein writes.
Bellamy soon relocated to Manhattan, where he lived in bohemian squalor with his future wife Nancy Christopherson, the first in a series of long-suffering partners. His next karmic windfall came in 1955, when his artist friends at Hansa gallery, undaunted by his lack of experience and formal education, hired him to manage their co-operative space. He turned out to be a terrible salesman. To Dicks countercultural value system, it was bizarre to acquire art for its potential to appreciate, explains Stein. You bought art because you loved it, pure and simple. Bellamy behaved strangely, too, often sleeping in the gallery. Stein sometimes glosses over his creepiest excesses devoting just a few sentences to a party where Dick had to be restrained as he lurched at his friend Jill Johnston with a carving knife but never loses sight of them.
After Hansa closed in 1959, Bellamy earned his place in history as the founding director of Green gallery, where his pioneering group shows fueled the explosion of smaller movements that succeeded abstract expressionism in the early 60s: pop, minimalism, conceptual art, op art. Bellamy was the first to show Warhols pop work, though he never capitalized on that foresight either. Aware of his own shortcomings, he tended to refer promising talents to rivals like Castelli. This suicidal approach made a split with his silent partner, the collector Robert Scull, inevitable. The gallery shut down in 1965. Bellamy worked as a dealer until his death, eventually operating (and sometimes living in) galleries in Tribeca and Queens. But his self-destructive lifestyle, irrepressible weirdness and disdain for commercialism meant he was increasingly treated as a character rather than a force.
In a fitting tribute to her aesthete subject, Stein devotes more space to eloquent analyses of the art he loved and the shows he assembled than to art-market economics lessons most of her readers will already have absorbed. Her descriptions are fresh enough to cast new light on works that have already been critiqued to death. Of Jasper Johns Green Target, she writes:
The painting was a readable image of a bulls-eye, with a choppy, encaustic surface that here and there revealed legible bits of newsprint and waxy tears, the accidental drips so cherished by abstract expressionists. But the overall effect had none of the emotional heat of the Hansas figurative expressionists.
A critic and curator with a doctorate in art history, Stein anchors Eye of the Sixties in a deep understanding of the connections between artists, movements and even art forms. In one passage, Stein connects di Suveros unprecedented large-scale, abstract sculptures with the groundbreaking jazz of Ornette Coleman. Bellamy loved music and lived for literature, so its impossible to understand his cerebral taste in visual art without viewing it through an interdisciplinary lens.
Steins reporting is even more impressive than her criticism, supplementing a scant published record with letters, diary entries and dozens of interviews many with key art world figures who have since died. A postscript hints at why her meticulous research took so long; she tracked down Christopherson in a nursing home, for example, and courted one reluctant artist with vintage postcards. Her attention to detail slows down the chapters on Bellamys aimless, pre-Hansa youth, though these early anecdotes end up illuminating his fascinating later years.
Every good biography has a mystery to solve, but Stein wisely avoids asking obvious questions. She doesnt waste time wondering why Bellamy ended up a peripheral figure in an art world driven by eight-figure sales. Instead, she focuses her inquiry on why his relatively untrained eye was able to identify so much genius, ultimately crediting his openness, genuine friendships with artists and ability to feel at one with things that were external to him. On one studio visit, he unnerved<a href="https://www.theguardian.com/artanddesign/video/2013/jan/30/bruce-nauman-art-video-review" data-link-name="in" body link" class="u-underline"> Bruce Nauman by silently mind-melding with his drawings for 20 minutes.
Like so much 20th century art, Steins book is a Rorschach test. Bellamy never struck it rich or got the credit he deserved, but the artists he discovered are still among the most celebrated of their generation. Whether you read Eye of the Sixties as a success story or a chronicle of failure says quite a bit about where you stand on the fraught relationship between art and commerce.
Read more: https://www.theguardian.com/books/2016/jul/28/eye-of-the-sixties-judith-stein-richard-bellamy-art-dealer