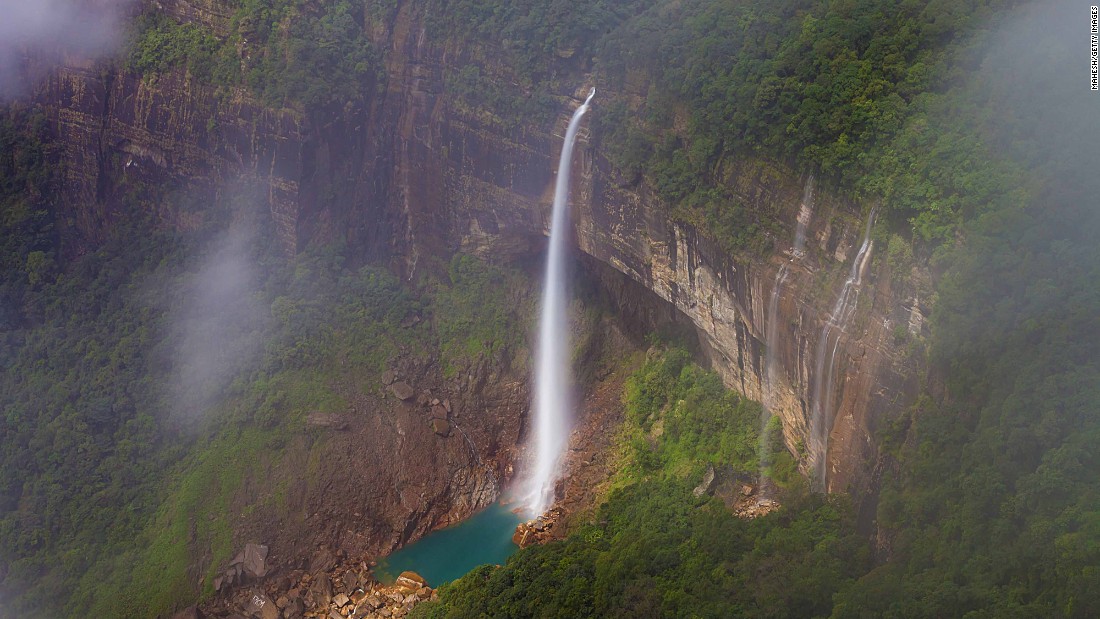 (CNN)When it comes to aptly named destinations, the northeast Indian state of Meghalaya is up there with the best.
But across this cool, green state travelers will also find India's cleanest village, the country's highest waterfall and a man who just might be the country's biggest Bob Dylan fan.
For those ready to give this up-and-coming Indian destination a try we've put together a short itinerary centered on the Khasi Hills, a central Meghalaya region.
A walk in the clouds to India's highest waterfall
To experience a walk in the clouds, we suggest starting in the town of Cherrapunji (also known as Sohra), which is about an hour and a half drive from Shillong, Meghalaya's capital.
With an average annual rainfall of 463 inches, Cherrapunji is the second wettest destination on the planet.
It's topped only by the neighboring village of Mawsynram, which gets 467 inches of rain per year.
Compare this with the average annual rainfall of India, which is 11-25 inches (300-650 millimeters).
Fortunately, most of the state's rain falls during monsoon season, between June and September, making it a great place to explore outside these months.
One of the most photogenic spots in the area is Nohkalikai Falls — the highest waterfall in the country at 1,115 feet (335 meters).
Another worthwhile natural attraction less than seven miles away from the falls, the Mawsmai Caves are dripping with stunning limestone stalactites and stalagmites.
Some gnarled, some smooth, they're the result of thousands of years of water erosion.
India's cleanest corner
About 50 miles– or a 2.5-hour drive –from Cherrapunji isMawlynnong, which has been called "
Asia's cleanest village
" by various publications — a title its residents take seriously.
The narrow lanes are spotless and locals can be seen cleaning and sweeping the streets throughout the day.
"All this [focus on cleanliness] started with a literacy and sanitation drive a couple of decades ago," John Khongthohrem, owner of a small guesthouse in Mawlynnong, tells CNN.
"And soon villagers realized that we can make this a model for tourism."
Home to a population of 600 people, the village is known for its meticulously manicured gardens.
Nearly every home has a private plot, with neat flower beds and carefully pruned blooms all year round.
Along the bamboo-lined streets, Khasi women — a matrilineal, ethnic community in Meghalaya — sell locally produced honey and spices.
To see the sprawling plains of Bangladesh across the border nearby, Mawlynnong villagers built an 80-foot-high tree platform (known locally as a machan) called Sky View.
To reach this tourist attraction, travelers have to climb a series of rickety but firm wooden steps.
Rooted in tradition
One of Meghalaya's biggest attractions, "living root bridges" have been a part of the local landscapes for more than a century.
Unlike modern bridges, made of steel and wires, these structures are grown around betel tree trunks using the strong roots of rubber trees. Stretched across rivers, they're supported by stones and boulders.
The living root bridges typically take 15 years to mature but after that can carry up to 50 people at a time.
Growing stronger with age, these natural wonders do not rot — despite the perpetually wet weather.
The most famous is a double-decker bridge in Nongriat village, just over seven miles away from Cherrapunji, called Jingkieng Nongriat.
Getting there requires an arduous trek up 2,500 undulating steps through lush jungle.
An easier, equally picturesque option can be found in Riwai village, next door to Mawlynnong.
It's best to arrive early in the morning for a chance to enjoy the stream and bridge in solitude.
Groves both sacred and cursed
On your way back to Shillong, we recommend stopping at the sacred groves of Mawphlang — a small Khasi village about 16 miles before the city.
With its 800-year-old moss-covered, towering trees and carnivorous pitcher plants, Mawphlang is reminiscent of Middle Earth from the "Lord of the Rings."
This is a biodiversity hotspot — picture mossy piles of leaves underfoot, clumps of mushroom sprouting from fallen tree trunks and handfuls of rudraksh (seeds used as prayer beads by Hindus).
The forest showcases dozens of varieties of orchids, butterflies, medicinal plants and towering trees.
Mawphlang has remained untouched for centuries, thanks to a local Khasi legend.
A deity known as Labasa is said to protect the area by putting a hex on anyone who takes even a single leaf out of the forest.
"Everybody here believes in this story without question — but you can also think of it as our elders' way of conservation," says local village guide Andrew Lyngdoh.
Exploring India's rock capital
Had enough scenery? Shillong doubles as India's unofficial rock music hub.
Apart from consistently producing some of the best music bands in the country, including Soulmate, this small hill town is also home to a dedicated Bob Dylan cafe — aptly named
Dylan's Cafe
.
Here travelers will find 69-year-old Lou Majaw — a local rock enthusiast known for his renditions of Dylan's hits.
(Something tells us " A Hard Rain's A-Gonna Fall" is particularly popular among locals.)
There's more to do in Shillong than rock out.
A culture tour around Shillong continues with an early morning visit to the Bara Bazaar.
Filled with fresh chicken, pork, and vegetables — including dozens of varieties of chillies — the market offers a peek into the everyday lives of Meghalaya residents.
Read more: http://www.cnn.com/2017/03/22/travel/meghalaya-india-walk-in-the-clouds/index.html