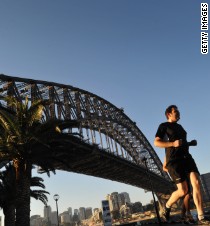 (CNN)You might want to chase that next beer with a little exercise. Exercising the recommended amount "cancels out" the higher risk of cancer death brought about by drinking, a new study revealed. Similarly, physical activity lessened any greater risk of death resulting from any cause due to alcohol.
With its "very high standing" in Western culture, "alcohol will continue to be abused despite the damage it causes to the health of individuals and society in general," said Dr. Emmanuel Stamatakis, senior author of
the study
, which appeared today in the British Journal of Sports Medicine, and an associate professor at the University of Sydney's medical school. Yet, policies to regulate consumption have never worked well, explained Stamatakis. Since people continue to drink, this realistic researcher and his colleagues decided to see whether the harms of drinking might be offset by the benefits of exercising.
<
ul class="cn" cn-list-hierarchical-xs cn–idx-4 cn-zoneadcontainer">
Observation over time
Stamatakis and his colleagues gathered data from health surveys conducted in England and Scotland. Then the researchers grouped the study participants — 36,370 people, all 40 years of age or older — into three categories: people who are not very active, those who do a moderate amount of exercising, and those who do the most. Next, the research team looked at alcohol use among the participants.
Read more: http://www.cnn.com/2016/09/07/health/exercise-alcohol-and-death-risk/index.html