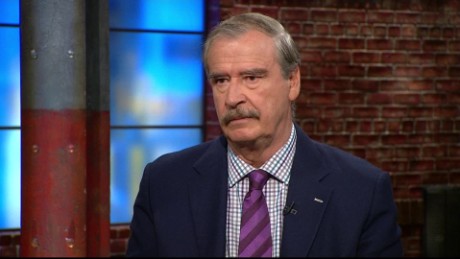 Cleveland (CNN)Mexico is more than happy to find new trade deals around the world if a would-be President Donald Trump decides to pull out of the North American Free Trade Agreement, former Mexican President Vicente Fox told CNN's Christiane Amanpour in an exclusive interview on Thursday.
There are a lot of great friends around the world, like China, like Japan, like Asia, like Latin America, where Mexico can do business," he said. "If [the] United States would not like to do business with Mexico, we can do it somewhere else."
<
ul class="cn" cn-list-hierarchical-xs cn–idx-4 cn-zoneadcontainer">
"The loser is going to be [the] United States."
Just hours before his speech to the Republican National Convention, Trump was stirring up controversy, bucking conservative orthodoxy.
"If I don't get a change, I would pull out of NAFTA in a split second," he told The New York Times in an interview published Thursday.
Republican Senate Majority Leader Mitch McConnell told CNN's Manu Raju on Thursday that the presidential nominee's rhetoric on immigration, including his pledge to build a wall on the Mexican border, was "not helpful."
"To me, he's a false prophet," Fox said. "He's cheating people."
His message: "Wake up, America."
"Don't go for the circus. Don't go for the charade. Don't go for the lights and the music. Go for the content. The ideas. The proposals."
Pulling out of NAFTA, he said, would harm America more than Mexico.
"Mexico imports from [the] United States over 750 billion U.S. dollars every year. We import, we buy from [the] United States. That means over 10 million jobs for U.S. citizens. So you don't lose jobs by trading. You gain wealth and opportunities to your people."
As for the wall, Fox was clear.
"Dividing is not the answer."
Read more: http://www.cnn.com/2016/07/21/world/vicente-fox-mexico-trump/index.html