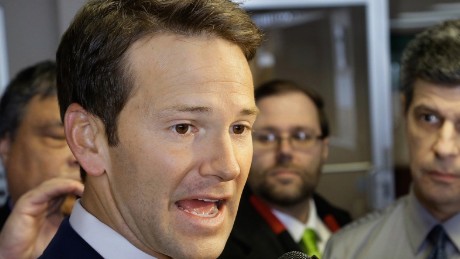 (CNN)A federal grand jury is poised to indict former Rep. Aaron Schock after a congressional ethics investigation revealed that he used taxpayer money to fund lavish trips and events.
Schock resigned his seat in March 2015 amid scandal, which most prominently featured the Illinois Republican
decorating his congressional office
in the style of the popular PBS drama "Downton Abbey." He later came under scrutiny for flights on private jets — including planes owned by key donors — concert tickets and other entertainment expenses. He's also under fire for lapses in reporting some of his expenses.
<
ul class="cn" cn-list-hierarchical-xs cn–idx-4 cn-zoneadcontainer">
The indictment has not yet been issued, but prosecutors have told his defense team that it is due shortly.
Shock said in a statement Thursday that the investigation had been politicized, and even at one point compared his conduct to that of Hillary Clinton, the former Democratic presidential nominee. He said prosecutors tried to "attempt to manufacture a crime."
"After this experience, I am forced to join millions of other Americans who have sadly concluded that our federal justice system is broken and too often driven by politics instead of facts," he said. "Unlike some politicians, I did not delete any emails, nor did my staff smash or destroy any electronic devices … I knew I had nothing to hide, and I believed that a quick review would prove this fact."
Schock's attorney cast a similar tone — and accused prosecutors of curious timing.
"Criminalizing a handful of administrative mistakes, a few of the thousands of transactions from Aaron's six years in office, to charge Mr. Schock two days after a national election has all the appearances of a politically calculated ambush," said Schock's lawyer, George J. Terwilliger.
Read more: http://www.cnn.com/2016/11/10/politics/aaron-schock-indicted-spending/index.html