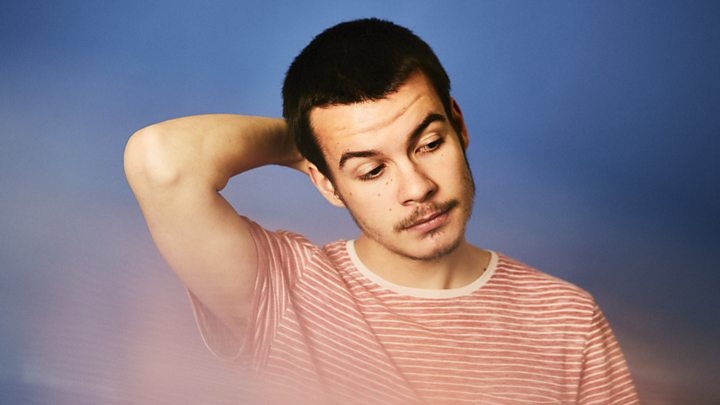 The emotional intricacies of Rex Orange County's exquisite pop songs have earned him second place on BBC Music's Sound of 2018 list, which aims to find music's Next Big Things.
Born Alex O'Connor, he grew up in sleepy Haslemere in Surrey, singing in the school choir and disturbing the peace with his drum practice.
He briefly attended the Brit School, whose alumni include Adele, Amy Winehouse and Katy B, but released his first, self-produced album before he graduated.
Recorded in his bedroom, bcos u will never be free showcased his sweet voice and unselfconscious lyrics, while hinting at his prowess as a songwriter.
<
aside class="pullout">
That came to fruition on last year's Apricot Princess, a breezy, laid-back album of love songs that glides smoothly between pop, rock, hip-hop, jazz and R&B.
"It's so effortless," says Annie Mac, who has championed the 19-year-old on her BBC Radio 1 show. "Every song sounds like a classic."
She's not his only fan: US rapper Tyler, The Creator put O'Connor on his latest album, Flower Boy; Frank Ocean hired him for his touring band; and he backed Skepta at last year's Mercury Prize.
"I've been able to do a lot of cool things," he tells the BBC. "That's always the dream, for any artist."

How does it feel to be on the Sound of 2018?
It's cool. I'm really honoured to have been chosen. The BBC has shown me a lot of love in the past – so it's great. I'm excited.
Do you remember the first time you got played on the radio?
For sure! The first person on the BBC that played me was Huw Stephens. I was sat around my laptop with my girlfriend and my family and it was super-exciting. It felt weird and it sounded weirder but it was great.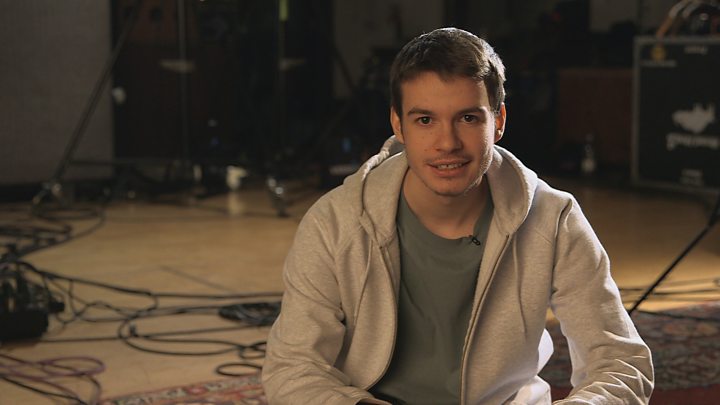 BBC Sound of 2018: The top five
TBC
What was it like growing up in Haslemere?
I always played music, I was in a choir when I was super young. I took piano lessons and I wanted to play drums when I was six. Luckily enough, my parents let me have a drum kit in my room – which is kind of crazy.
Presumably the countryside's a good place to practice drums because the neighbours aren't too close.
It was exceedingly loud now I look back on it – but the neighbours were fine. My mum always said, "I'm so glad you got better because the first couple of years with you bashing away up there was difficult!"
School was good, too. I had a teacher that really got me into music. And I went to study music for sixth form in London.
This is at the Brits School?
That's right. I don't really mind people know I went there but I don't feel it defined me or anything.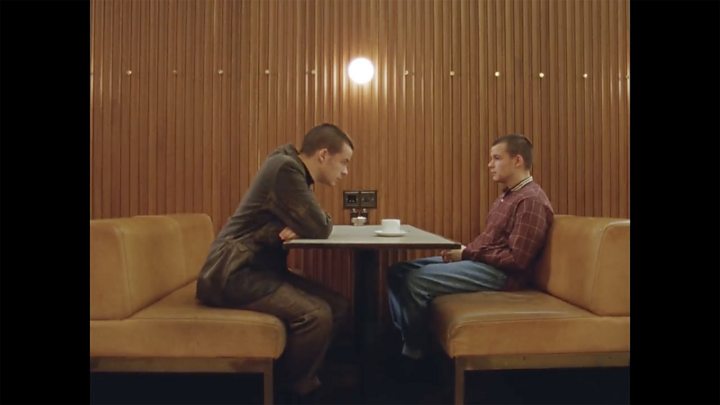 What prompted you to leave the drums behind and become a frontman?
Midway through college, I was discovering a lot of artists who played the guitar. Prior to that, I was still studying Michael Jackson and Stevie Wonder songs [and] I didn't think guitar was an instrument I was interested in in any way.
But when I started actually listening to those songs – the chords and the melodies and the lyrics – I realised I'd rather be doing that because, at that school, the people who played drums were amazing.
I mean, I'm totally competent and I've played drums on all my music, but there were people there who were born to play, and I was just not that. I knew I had talents in other fields so I just utilised them.
<figure class="media-landscape" has-caption full-width">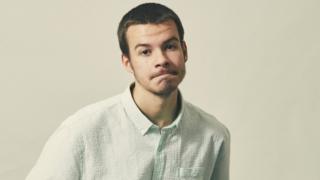 Image copyright Rex Orange County

Image caption The singer has turned down deals from record labels to release his music independently
On Paradise, you sing: "Who needs an academic career when you're the one with all the ideas?" Did you grow disillusioned with school?
Sort of … I'm a typical artist: I didn't do particularly well with science and maths. School did stress me out, like it does for a lot of young people. I didn't like having to do work that I didn't care about.
Your second album, Apricot Princess, is very upbeat compared to the first. What changed?
Just before the album was written, I found myself in a relationship and I'm super-positive about it and I wanted to flip what I had previously done. I made the first album when I was angry and upset – and now I'm nowhere near that.
Is that your girlfriend singing on Sycamore?
Yeah, her name is Thea.
So she gets a starring role in her own story.
Of course! But it can be anyone's story – I think that's why people like it. People are always messaging me talking about their own experiences with a girl or a boy.
<figure class="media-landscape" has-caption full-width">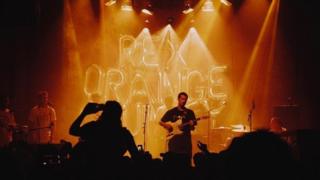 Image copyright Rex Orange County

Image caption The singer says he plans to tour Apricot Princess extensively in 2018
Apricot Princess makes a big leap in terms of arrangements and instrumentation. Was it all recorded live?
It was predominantly produced by myself and a recording engineer called Ben Baptie. He helped me get the sounds I wanted from the [computer] files I had, which all sounded like fake instruments. But the real expense was having an eight-piece string section. That was massively overwhelming.
You've already followed up that album with a standalone single, Loving Is Easy. Are you quite a prolific writer?
I try and write as much as I can. But I don't have a song a day or anything like that. I just do it as best I can. I mean, I'm not very good at anything else.
How did you end up on Tyler, The Creator's album?
His friend found me on YouTube and showed him the video – and then he emailed me personally. It was pretty out of the blue.
Did you believe it was him?
Not really. It wasn't like I had people hitting me up all the time, so I was just kind of confused.
<figure class="media-landscape" has-caption full-width">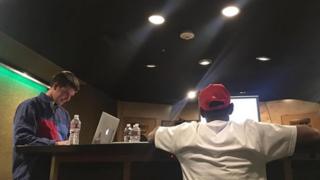 Image copyright Rex Orange County

Image caption In the studio with Tyler, The Creator – August 2016
So what did you do?
I said, "I know this probably isn't really you, but if you want to prove it you can just call me right now!"
Instead of doing that, he messaged me on Twitter so I could tell it was his verified account. We started talking about songs we both liked – Stevie Wonder and Amy Winehouse – and it ended up with him having a song he wanted me to do, and I did it!
Was it one of those situations where he emailed over an instrumental for you to add vocals in your bedroom?
That did happen, but only so he knew it was worth having me come all the way out to LA to do it in the studio with him.
When he first sent it, he was like, "Don't get your hopes up too much, because I still don't know who I want to get on it."
Then you ended up on two songs!
It worked out pretty well. I love the album, regardless of my songs. It's his best album, for sure.
What does next year hold? Album number three?
I'm going to tour this album as much as I can, and the next one is going to be worked on for the whole of the year.
It's weird to have an amount of pressure to deliver, now that I've delivered once or twice. So it'll come when it does. That's pretty much all I can say.

Follow us on Facebook, on Twitter @BBCNewsEnts, or on Instagram at bbcnewsents. If you have a story suggestion email entertainment.news@bbc.co.uk.

<
div id="topic-tags">
<
div id="u41607434675097466″>
<
div class="tags-container">
<
h2 class="tags-title" story-body__crosshead">Related Topics