Fear, anguish and confusion as witnesses recount bloodshed at Pulse nightclub while families await news of loved ones fates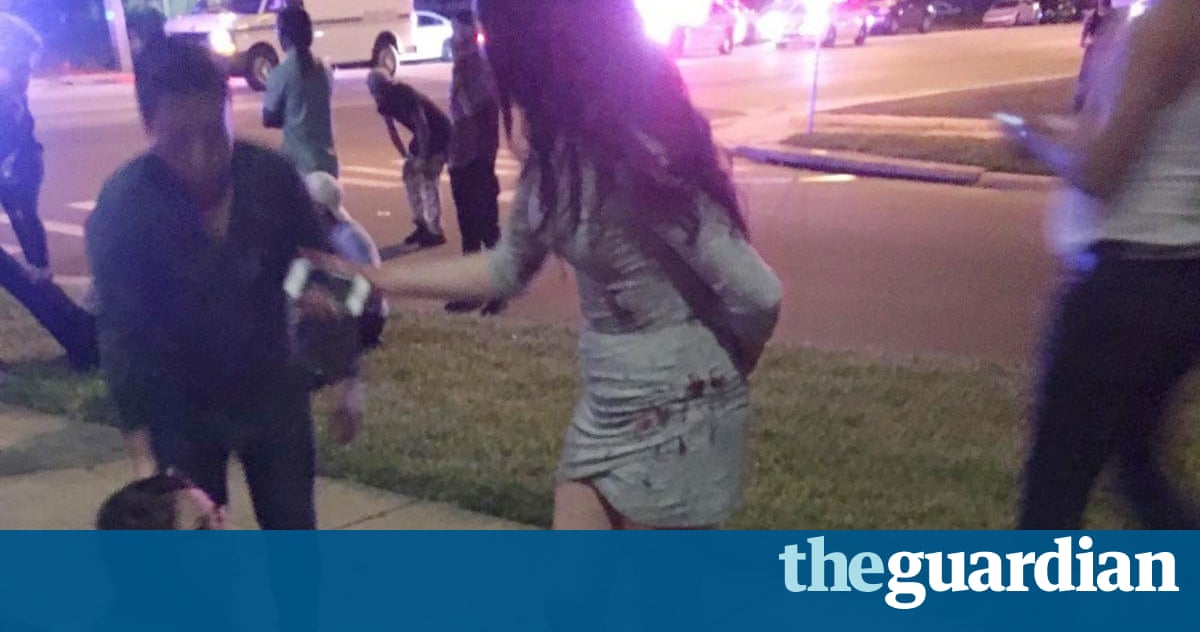 Everyone get out of pulse and keep running.
It was after 2.30am in Orlando, at least half an hour after the shooting began, when someone managed to post on the Facebook page of the Pulse nightclub, a haven for the vibrant LGBT community of central Florida.
Barely a day earlier, the police chief, John Mina, had held a press conference about another shooting, in which a gunman murdered the pop singer Christina Grimmie and then killed himself.
Weve never had an issue here that Im aware of, especially anything of this magnitude, Mina said on Saturday.
On Sunday, his department was confronted with the deadliest mass shooting in American history: at least 50 dead, 53 wounded, many in grievous condition.
On Saturday night, the sprawling club in downtown Orlando opened to Latin Night, one of the venues nightly themed events. A drag queen from Puerto Rico was scheduled to perform at the club, where more than 100 people were celebrating the Saturday after Orlandos 25th Gay Days festival. A Cyndi Lauper song was on, a witness later said, when the shooting began at about 2am.
Anthony Torres was sitting in the VIP section of the bar, near the entrance, and about to leave when it began.
It seemed fake, he later wrote on a social media post. This had to be planned.
Torres wrote that he saw people screaming and running, looking for their loved ones and saw other injured people sitting on the floor. He and his boyfriend, sister and friends ducked out the door.
An Orlando police officer was on duty outside the club and moved to confront the gunman, Mina told reporters on Sunday. The officer drew the gunman outside on to Orange Avenue, where they exchanged fire. Then the shooter re-entered the club and started firing again.
At first, when I heard the shots, I thought it was part of the music, but then we realized it was really happening, Kenneth Melendez told the Orlando Sentinel. I started running and saw someone bleeding from the arm and I was like, Wow, this is really happening, and I kept running.
Four of his friends were shot and taken to hospital, he said.
Another survivor, Christopher Hansen, also mistook the first sounds of discharge to be part of the DJs set.
You think you hear a song, its music, and then you realize no, its not, its real life, theres somebody actually shooting, he told a reporter outside the club. Its not OK. Its not.
Hansen said he dropped to the ground and saw red liquid spill on to the woman next to him in his shock, he at first thought it was someones fallen drink. A man nearby fell, shot in the back, and Hansen tried to stanch the bleeding with a bandanna while the continuous bang of the gun echoed through peoples screams. He started to crawl to safety, dragging the injured man behind him.
He added that he knew the gunman must have had more than a handgun: there were too many shots. The police chief later said he had an AR-15-type assault rifle and a handgun. He fired dozens of rounds.
Outside, dozens of officers arrived from departments and agencies around central Florida. Swat teams, FBI agents and a bomb squad with dogs joined them. The county sheriff, Jerry Demings, later said more than 100 personnel arrived in the dark hours of the morning.
Inside the club, people scattered. Some hid in bathrooms, where they tried to contact police, partners, friends, parents. A local station, WFTV, broadcast several of the texts to family on the air. A mother recounted a text from her daughter and two nieces: Please come and get us. Please come and get us now. Theyre shooting. Theyre shooting.
The station also showed texts from a man to his mother, sent from hiding. Mommy I love you, he wrote in one. In club they shooting.
Hes coming, he wrote in another. Hes in the bathroom with us.
Injured people trickled out of the club however they could, piling on to stretchers and into ambulances as the sole mass trauma hospital in the area rushed into emergency protocol. The witness Anthony Torres posted a video of the long line of vehicles, their lights blinking, and wrote a caption: They are just pulling people out in stretchers loading them up.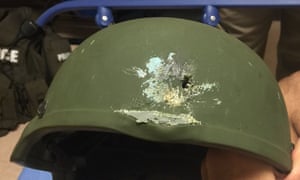 Read more: https://www.theguardian.com/us-news/2016/jun/12/orlando-nightclub-shooting-how-attack-unfolded