<figure class="media-landscape" has-caption full-width lead">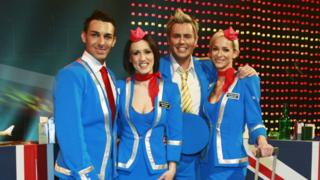 Image caption Who can forget Scooch, who flew the flag for the UK 10 years ago?
Break out the sequins and pop the champagne – it's Eurovision time again.
It's that time of year when delegations from all across Europe – and even further afield – come together to find out which country will be crowned the winner of the annual song contest-cum-live TV spectacle.
This year marks the 62nd edition of the international gathering that, over the years, has brought us such gems as Waterloo by Abba, Making Your Mind Up by Bucks Fizz and Flying the Flag by Scooch.
For some it's a deluge of gaudiness, kitsch and music to make your ears bleed. To many aficionados, though, it's a yearly delight that can be relied upon to deliver emotion, tension and laughter in bucket loads.
Here's what you need to know ahead of this year's event.
<div id="bbccom_mpu_1_2_3″ class="bbccom_slot" mpu-ad" aria-hidden="true">