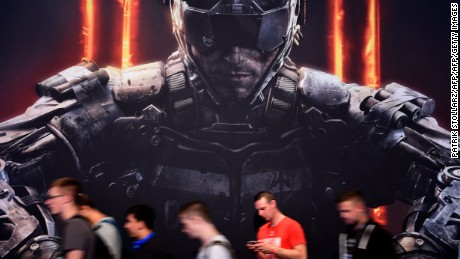 (CNN)Jens Hilgers is a geek, it's how he describes himself both in person and on the bio of his LinkedIn page — "entrepreneur, geek, gamer, tree hugger."
He's always enjoyed gaming and as he watched soccer fans lining up to watch Bundesliga games in his native Germany, he believed that one day people would do the same to cheer on people playing video games.
<
ul class="cn" cn-list-hierarchical-xs cn–idx-4 cn-zoneadcontainer">
As he called his first game on a live stream, his audience numbered just eight people, but the experience was intoxicating. By 2002, when he traveled to Korea to cover the World Cyber Games, he was hooked for life.
The only constant is change
For Graham and Hilgers, things have changed considerably since then.
Graham is known globally as one of the voices of eSports, working for the billion-dollar Twitch organization, and Hilgers is one of industry's top business minds.
So, just how did we get to a point where entrepreneurs are tripping over themselves to invest hundreds of millions of dollars and players are becoming world-famous millionaires?
Y2K and the advent of high-speed internet technology was crucial, but Hilgers can identify three critical factors that changed the game forever.
Firstly, the gaming industry had to be turned upside down. The old-school business model was a simple one-off transaction between consumer and developer; for about $50 you'd purchase a new title, master it within a few months and move on to something else.
The game was there to be beaten and that was it — no long-term investment for either party.
New generation
The new generation of games were more of a service than a product. Free-to-play at first, a longer shelf-life meant developers could profit in the long run through in-game micro transactions.
These were real-time strategy team-games and they could never be mastered; so a community grew around them with narratives formed and legends born.
The next big turning point came with the launch of Twitch in 2011, a live streaming service that enabled anyone to share their own gaming experience with the masses.
Tournaments now had a reliable, efficient and high definition distribution network, while teams and players had an opportunity to engage directly with their fans and build a brand.
With the young millennials eschewing traditional forms of media entertainment and therefore eluding the advertisers, Amazon saw the potential and snapped Twitch up for almost a billion dollars in 2014.
Almost everything was now in place, but Hilgers knew there was still one last tipping point.
"We needed an audience for which eSports was natural, not alien. An audience of millennials that would grow up with computer games and accept eSports as a part of our culture."
It would seem that we're at that point now. Anyone who might have sneered at gamers playing in their parents' basement with the curtains drawn are now being forced into a major rethink.
The numbers are incredible.
The eSports industry has been experiencing double digit growth for several years and according to the research group Newzoo, it boasts a global community of 148 million enthusiasts.
That number is projected to hit 215 million by 2019. Just one game — "League of Legends" — drew an audience of 36 million for its World Championship last year, that's more viewers than the NBA Finals.
According to Newzoo, global revenue in the eSports industry rose from $194 million to $463 million in the same period — a 239% increase — and is expected to smash $1 billion by 2019.
Even first-person shooter games like "Counter-Strike : Global Offensive" have boomed, despite the visceral depiction of brutal violence.
Worldwide Scope
The excitement isn't just confined to Korea, where eSports is already ubiquitous. American broadcasters like ESPN and Turner are now presenting games to their television audiences.
Players are making seven figure salaries and are celebrated like rock stars.
Tournaments are played-out in arenas packed with tens of thousands of fans. You can even go to college on an eSports scholarship.
What began as a hobby for pioneers like Hilgers and Graham has now become a lucrative profession.
ESports is a revolution which has redefined gaming, helped shape what it means to be a millennial and quite possibly paved the way for the future of broadcast sports and entertainment.
And the most exciting thing is that nobody quite knows what the future holds, but the passion is real and the numbers are staggering; eSports is very much here to stay.