<figure class="media-landscape" has-caption full-width lead">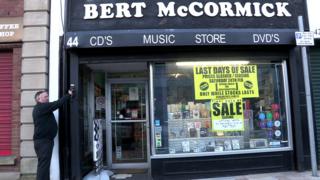 Image caption Bert McCormick has been selling records in Ballyclare for 42 years
After more than four decades selling records from around the world, on Saturday Bert McCormick brings the shutters down on his eponymous Ballyclare store for the final time.
Now 78, music man Mr McCormick started in the business when he was just 16 years old.
He was a jazz keyboard player before going to work for a record label and then touring with showbands around Northern Ireland, playing with the likes of Chubby Checker and The Kinks.
But it was in 1976 that he spotted an empty unit in Ballyclare's Main Street, and fulfilled his lifelong ambition of opening his own record store.
<figure class="media-landscape" has-caption full-width">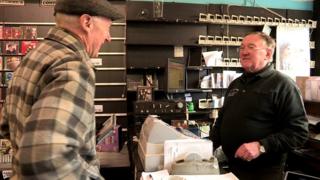 Image caption Mr McCormick said a good record shop should be able to get anything a customer wants
He has worked there ever since, with his wife, daughter and grandchildren all helping out over the years.
<
div id="bbccom_mpu_1_2_3″ class="bbccom_slot" mpu-ad" aria-hidden="true">