David Smith chronicles a busy week in a bizarre election year, as a Trump hotel serves Amerrica beer and Gary Johnson has a brain freeze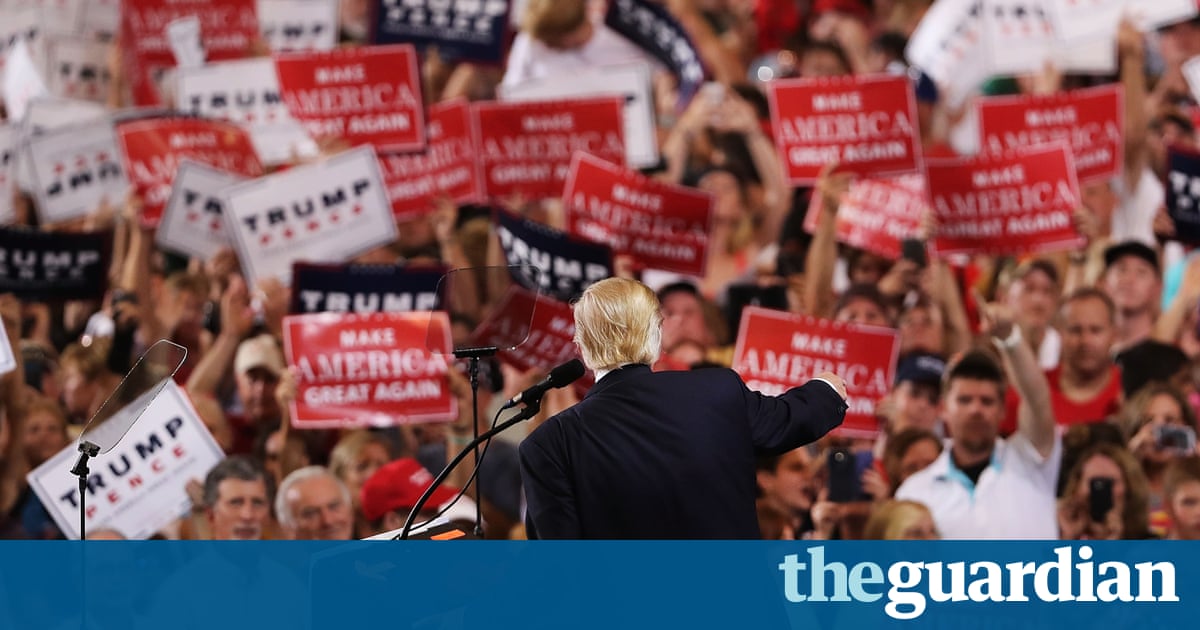 One of the intriguing points of Monday nights blockbuster debate was Donald Trumps nose. He repeatedly sniffled (and drank water), which seemed pretty rich given his assertion that Hillary Clinton lacks stamina. Was he ill? The candidate insisted on Fox News the next day: No sniffles, no. You know, the mic was very bad. Maybe it was good enough to hear breathing. There was no sniffles. I have no allergies. No cold. Every once in a while, but no cold.
Perhaps Darth Vader was merely a misunderstood guy because the mic picked up his heavy breathing. These things can matter, as Al Gore knows. The vice-presidents highly audible sigh in the 2000 presidential debate was just possibly the domino that led to the election of George W Bush, which led to the Iraq war, which led to the current mess, which led to Donald Trump. Thus can a sigh or a sniffle sink civilisation.
Hitler is having a moment. Making comparisons to the Nazis is often the sign of a losing argument. But credit to the New York Times for its review of a Hitler biography that contains some unnerving points without ever mentioning Donald Trumps name and is all the more powerful for that (after all, the pigs in Animal Farm are not called Stalin and Trotsky).
Highlights include: Hitler was often described as an egomaniac who only loved himself a narcissist with a taste for self-dramatisation and a characteristic fondness for superlatives; Hitler was known, among colleagues, for a bottomless mendacity that would later be magnified by a slick propaganda machine that used the latest technology (radio, gramophone records, film) to spread his message; Hitler increasingly presented himself in messianic terms, promising to lead Germany to a new era of national greatness, though he was typically vague about his actual plans; Early on, revulsion at Hitlers style and appearance led some critics to underestimate the man and his popularity, while others dismissed him as a celebrity, a repellent but fascinating evenings entertainment.
Just coincidence, then, that Barack Obama should make a Hitler reference of his own at a White House ceremony for the US Olympic and Paralympic teams. Noting the presence of relatives of Jesse Owens and 17 other African American athletes who competed at the 1936 Olympics in Berlin, the outgoing president said: It wasnt just Jesse. It was other African American athletes in the middle of Nazi Germany under the gaze of Adolf Hitler that put a lie to notions of racial superiority whupped them and taught them a thing or two about democracy and taught them a thing or two about the American character.
Trump: come 8 November, beware a whupping.
Spotted on the menu at the new Trump International Hotel in Washington: The Benjamin beer silver bucket, unlimited Amerrica beer.
Make Amerrica great again.
Newt Gingrich, former House speaker and Clinton foe, was at the Kennedy Center with his wife, Callista a chorister to watch Mozarts opera The Marriage of Figaro last weekend. Asked how his friend Donald Trumps debate homework was going, and who was playing the role of Clinton in mock debates, Gingrich replied airily: No one. He doesnt need that. But you cant rehearse too much, in opera or in life. The nights performance made a false start when the curtain got stuck due to a technical hitch. As the orchestra trailed off into silence, the hapless conductor turned to the audience and wailed: They should be singing now!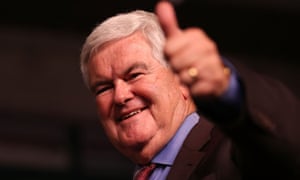 Read more: https://www.theguardian.com/us-news/2016/oct/01/election-campaign-diary-trump-clinton-johnson