<figure class="media-landscape" no-caption full-width lead">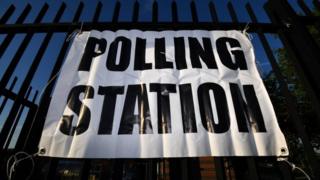 Image copyright Getty Images
Millions of people are heading to polling stations across the UK to cast their vote. But what can and can't you do in there?
Most British people are familiar with what goes on inside a polling station. You march in, possibly brandishing your polling card, you give your name and address, someone finds you on a list and gives you a ballot paper. You then head off to a booth to use your stubby pencil to mark your X.
In 2015 we published a guide to what was and wasn't allowed in the polling station. But some issues have arisen since then so here's an update.
Can you take a selfie?
There's nothing in the law that specifically bans taking photos, but the Electoral Commission very strongly discourages any photography inside a polling station, primarily because of complex laws about maintaining the secrecy of the ballot. For instance, it's illegal to reveal how someone else has voted, which could happen inadvertently via a sloppy selfie. In addition, taking a photo of a ballot paper's unique identification number is against the rules. The key is a law against releasing any information "obtained in a polling station", which is in order to protect the integrity of the poll.
The Electoral Commission says: "Due to the potential breach of the law, intentionally or not, we strongly advise against any form of photography taken inside a polling station. However, if a voter would like to highlight their participation in the elections, we suggest this is done outside the polling station before or after they vote." Consequently, you will see "no photography" signs inside many polling stations.
<div id="bbccom_mpu_1_2_3″ class="bbccom_slot" mpu-ad" aria-hidden="true">