Why watch the Winter Olympics – surely just a collection of incomprehensible sports events that Britain – a country regularly destabilised by a few centimetres of snow – is no good at?
Or is it an adrenaline-filled ride into the unknown, where you just don't know what you'll be entranced by next? Here are eight things we predict will capture the imagination at Pyeongchang 2018.
1. Everyone ends up getting hooked on curling
<figure class="media-landscape" has-caption full-width">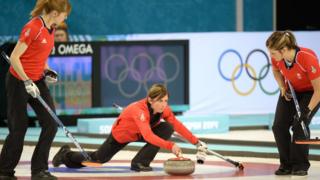 Image copyright AFP/Getty Images

Image caption Great Britain's Eve Muirhead throws a stone in the Sochi Winter Olympics 2014
If you were to invent a sport from scratch, you would probably end up suggesting monkey tennis before you'd get to the slightly strange hotpotch that is curling.
Experts may talk of curling stones, the skip, the house and the brushes – but ask any non-aficionado and they'll describe it as bowls on ice with added broomstick action. A lot of broomstick action.
Few would mark this combination out as a surefire TV winner but, every four years, it becomes one of the most mesmerising things you can watch on a TV screen.
<div id="bbccom_mpu_1_2_3″ class="bbccom_slot" mpu-ad" aria-hidden="true">