Playwright whose masterpiece of marital disharmony, Whos Afraid of Virginia Woolf?, delved beneath the surface of middle-class life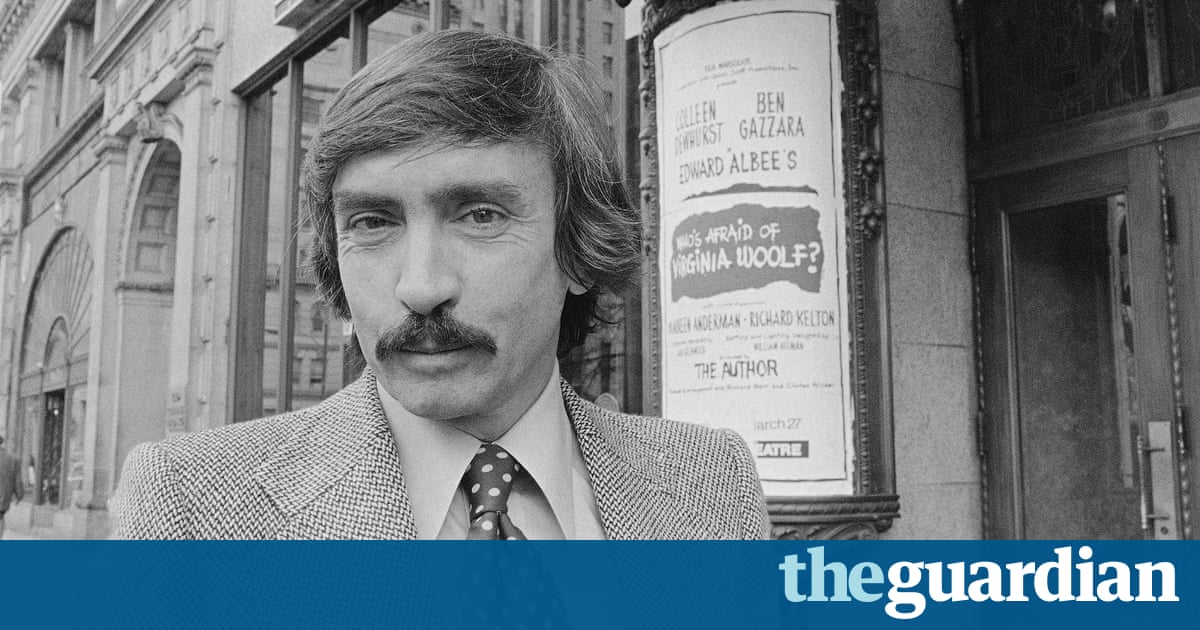 Edward Albee, who has died aged 88, has been described as both the first modern American playwright and the last great American playwright after Eugene ONeill, Tennessee Williams and Arthur Miller. In reality he was probably neither, although he was undoubtedly a substantial talent, who burst on to a stagnant American theatrical scene with The Zoo Story in 1959 and followed it up three years later with that major masterpiece of marital disharmony, Whos Afraid of Virginia Woolf?
Although Albee was to continue writing all his life, and had minor success with plays such as the Pinteresque A Delicate Balance (1966) and All Over (1971), it was not until 1991 that he had a late creative blooming and another theatrical hit with Three Tall Women. Like much of Albees best work, Three Tall Women was strongly autobiographical, drawing on his privileged but loveless childhood and memories of his mother, Frances, a domineering, Junoesque beauty who preferred horses to people, and almost anyone to her adopted son.
He was born in Washington, to Louise Harvey, and immediately given up for adoption. Aged 18 days, he was handed into the care of Reed and Frances Albee, of Larchmont, New York. Reed was the wealthy, womanising son of the vaudeville theatre-owner and manager Edward Franklin Albee, and Frances (nee Cotter), better known as Frankie, was his third wife. It was rumoured that she had married Reed for his money. A childhood friend of Albees was subsequently to remark: Its lucky he was adopted. He would not get much talent from those two.
A dreamy child with a penchant for drawing and music, the young Edward may not have wanted for material wealth, but grew up an observant outsider in his own home, ignored by his monosyllabic father and reviled by his mother. My mother and I disliked and mistrusted each other, said Albee in an interview many years later, recalling that she would frequently tell him: Just you wait until you are 18, and Ill have you out of here so fast that itll make your head spin.
In fact Albee was 20 before he left home, after an argument. Apart from a chance encounter, he never saw his father again, and he had no further contact with his mother for 20 years, although she was regularly to appear in different guises in his plays: as Mommy in The American Dream (1961), Martha in Whos Afraid of Virginia Woolf?, Agnes in A Delicate Balance and, most famously, as Three Tall Women, written shortly after her death in a creative act that Albee likened to an exorcism. Mother and son may never have reached rapprochement, let alone anything approaching love, but Frankie was as much a muse for Albee as she was a monster.
Albee spent the next 10 years living in and around Greenwich Village, bolstered by the $25 a week interest payments from a trust fund he had inherited from his grandmother, and occasional work as a telegram boy for Western Union. The ordinary people he met while tramping the city, their desperation and loneliness, became the inspiration for The Zoo Story. But he was also moving in artistic circles. By 1952 he was living with, and in the shadow of, the talented young composer William Flanagan.
After the success of The Zoo Story, the myth grew up that it was Albees very first play, apart from a three-act sex farce written when he was 12 and destroyed by his mother. In reality, between 1949 and 1959, he served an intense apprenticeship, writing at least nine plays as well as short stories and poems. The Zoo Story, about two men sitting on a bench in Central Park, was started a month before his 30th birthday as, Albee was later to claim, a birthday present to himself. He was immediately aware that, for the first time, he had written something worthwhile.