<figure class="media-landscape" has-caption full-width lead">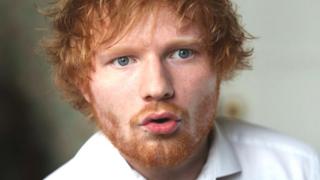 Image copyright PA

Image caption Ed Sheeran: "I think this year is going to be the high point of my career"
In the first part of our exclusive interview with Ed Sheeran, the singer talked about writing 10 different versions of his third album, (Divide), and revealed he had a song "better than Thinking Out Loud".
In this, the second part, we delve deeper, using (Divide)'s song titles as the jumping off point for a series of random, but revealing questions.
So, if you want to know how he burned his foot on a volcano, what he bought his girlfriend for Christmas, or when Taylor Swift's new album is coming out, read on.


Track one: Eraser
You erased yourself from social media last year. Was that for peace of mind?
My mind was definitely more settled. I didn't have as much anxiety, because I didn't have as many people wanting things from me. Or I wasn't aware of the people who wanted things from me.
<div id="bbccom_mpu_1_2_3″ class="bbccom_slot" mpu-ad" aria-hidden="true">