The letter, which experts have concluded is a draft of the actual note he sent, was written to return the MBE in protest against Britains foreign affairs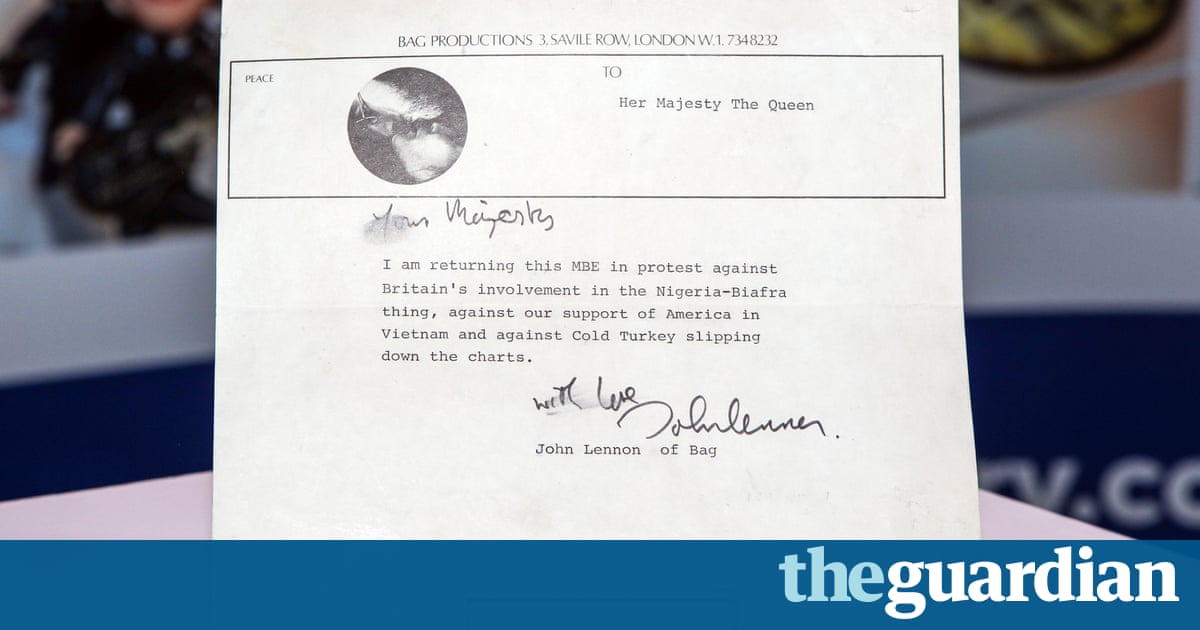 A letter from John Lennon to Queen Elizabeth II, in which he explains his reasons for returning his member of the Most Excellent Order of the British Empire (MBE), has been discovered after it was found in a flea market haul.
The letter, which experts have concluded is a draft of the actual letter Lennon sent and is now kept in the royal archives, was found in a record sleeve after being purchased as part of a 10 ($12) lot 20 years ago.
In the note, which is now estimated to be worth 60,000 ($73,000), Lennon lays out his reasons for returning the honour, which include the performance of the Plastic Ono Bands single, Cold Turkey, which Lennon wrote.
It reads: I am returning this MBE in protest against Britains involvement in the Nigeria-Biafra thing, against our support of America in Vietnam and against Cold Turkey slipping down the charts.
The anonymous owner discovered the letter in a record sleeve and found out its worth after taking it to a valuation day at The Beatles Story in Liverpool on Wednesday.
The Beatle originally accepted the honour from the Queen in 1965, before returning it four years later, and music memorabilia expert Darren Julien told the BBC it was an incredible find.
He added: My theory is that John Lennon never sent this draft because of the smeared ink. This suggests that he wrote a second version of the letter, which was the one that was actually sent.
A lock of Lennons hair recently sold for 25,000 ($36,000) at auction and was cut in Germany before Lennon filmed the comedy How I Won the War in 1966.
Read more: https://www.theguardian.com/music/2016/oct/28/john-lennon-letter-queen-elizabeth-mbe-protest