Female politicians, journalists and actors have faced his verbal abuse, but the sexual allegations cause the greatest disquiet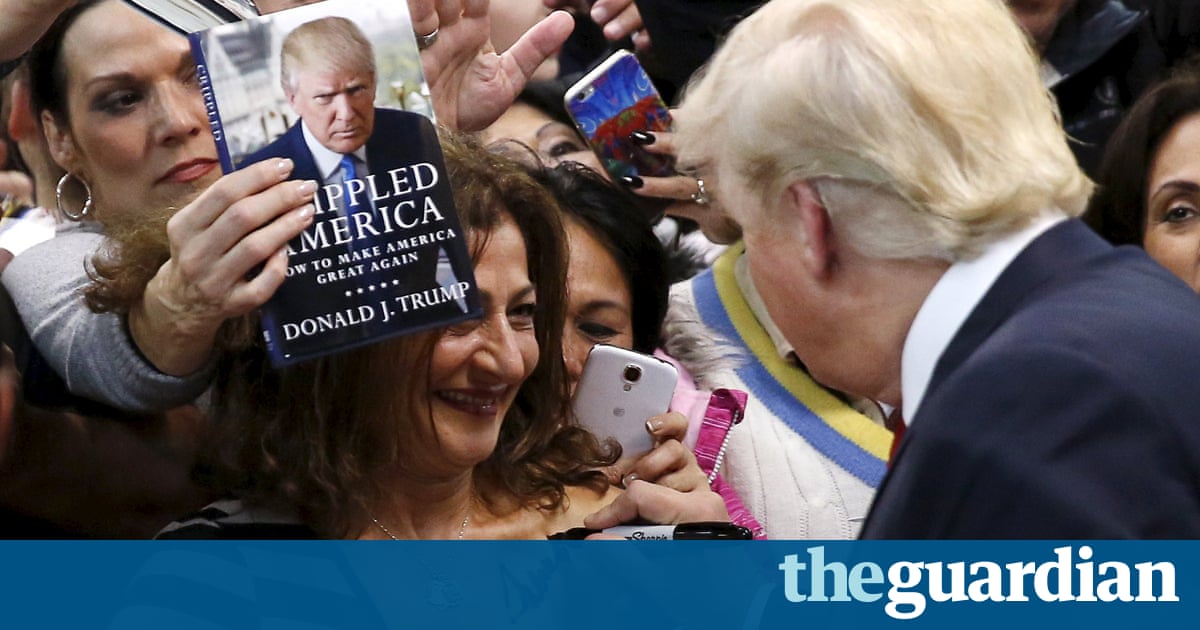 Donald Trumps apology for the latest in a string of controversial comments about women came as no surprise to the political strategist and fellow Republican Ana Navarro. He is not fit to be the president, he is not fit to be the Republican nominee, he is not fit to be called a man, Navarro said on CNN. How many times does he get away with saying something misogynistic before we call him a misogynist? How many times does he get away with saying something sexist before we acknowledge that he is a sexist? It is time to condemn the man.

Navarro was not the only one to point to Trumps long history of seemingly misogynistic comments, and while the campaign tried to regain its footing this weekend, spectators revisited some of his most appalling outbursts: fat pigs, slobs and disgusting animals.
Having said in the 1990s that it did not matter what the media said about him as long as youve got a young and beautiful piece of ass, Trumps attitude appears to have remained unchanged during his bid for the Oval Office. Take, for instance, his attacks on the Fox News anchor Megyn Kelly, who grilled him over previous accusations of sexism. Trump called her a bimbo who was incapable of objectivity when there was blood coming out of her whatever – widely interpreted as a thinly veiled reference to her menstrual cycle.
Other biological processes of women to have offended Trump include the need to take a toilet break – Clinton was branded disgusting for doing so during a Democratic debate – and breastfeeding a baby – opposing lawyer Elizabeth Beck was also disgusting for requesting a break to breastfeed her three-month-old daughter during a 2011 hearing over a failed Florida real estate project in which Trump was involved.
Trump has regularly targeted Arianna Huffington, the editor and co-founder of the Huffington Post, as being unattractive both inside and out. When the New York Times columnist Gail Collins wrote about rumours of his bankruptcy, he sent her a copy of her own article with her picture circled and the face of a dog! written across it. More recently, when his campaign manager, Corey Lewandowski, was charged with battery for yanking Michelle Fields arm as she tried to ask questions, Trump was quick to accuse the reporter of changing her story.
He has also maintained a brutal verbal campaign against comedian Rosie ODonnell. In 2006, during an appearance on Entertainment Tonight, Trump said she was disgusting, both inside and out. If you take a look at her, shes a slob. How does she even get on television? If I were running The View, Id fire Rosie. Id look her right in that fat, ugly face of hers and say, Rosie, youre fired. Were all a little chubby but Rosies just worse than most of us.
The verbal assault did not stop there, as he continued to attack her personal life and offend the LGBT community at the same time: Rosies a person whos very lucky to have her girlfriend. And she better be careful or Ill send one of my friends over to pick up her girlfriend. Why would she stay with Rosie if she had another choice? he said.
Of Angelina Jolie, Trump said: I do understand beauty, and shes not. Of the breakup of actor Anna Hathaways marriage to Rafaella Follierei following his financial and legal troubles, he said: So when he had plenty of money, she liked him. But then after that, not as good, right? And after the singer Chers criticism of Mitt Romney, he promised not to talk about your massive plastic surgeries that didnt work.
Nor have Trumps fellow politicians and their spouses been spared from the line of fire. He questioned whether anyone would vote for Carly Fiorina, the former Hewlett Packard boss and his Republican candidate rival, stating: Look at that face Can you imagine that, the face of our next president?
There was a major fallout after he insulted the appearance of Heidi Cruz, a partner at Goldman Sachs bank and the wife of his leading opponent Ted, by re-tweeting a supporters split-screen image featuring an unflattering picture of Heidi next to a shot of Trumps wife, Melania, a former model, from a GQ magazine photoshoot in 2000. A picture is worth a thousand words, the post said.
On policy issues, Trump was forced into a quick retreat after advocating some form of punishment for women who had abortions if the procedure became illegal. He previously supported the pro-choice lobby, but he has since said he believes individual states should be granted the right to ban the practice, except in cases of rape, incest or when the womans life is at stake.
Verbal indiscretions aside, perhaps what many fear most is the more serious allegations about Trumps conduct towards women. Jill Harth, a woman at the centre of sexual assault allegations against the billionaire, spoke for the first time in July about her personal experience with him. The makeup artist has accused Trump in a lawsuit of cornering and groping her in his daughters bedroom. She told the Guardian that she stood by her charges, which her lawyers described in the lawsuit as attempted rape.
Shortly after Trump announced his bid for president it emerged that his first wife, Ivana, had alleged in testimony during their divorce that he had raped her in 1989. When the allegation resurfaced in the Daily Beast, a lawyer and aide to Trump told a reporter that the claim was moot because you cannot rape your spouse. In a statement issued through Trumps lawyers, Ivana later said she did not want rape to be interpreted in a literal or criminal sense.
Read more: https://www.theguardian.com/us-news/2016/oct/08/trumps-misogyny-problem-how-donald-has-repeatedly-targeted-women