Republican nominee addresses service at Great Faith Ministeries church, leading protesters to decry pandering while parishioners come away impressed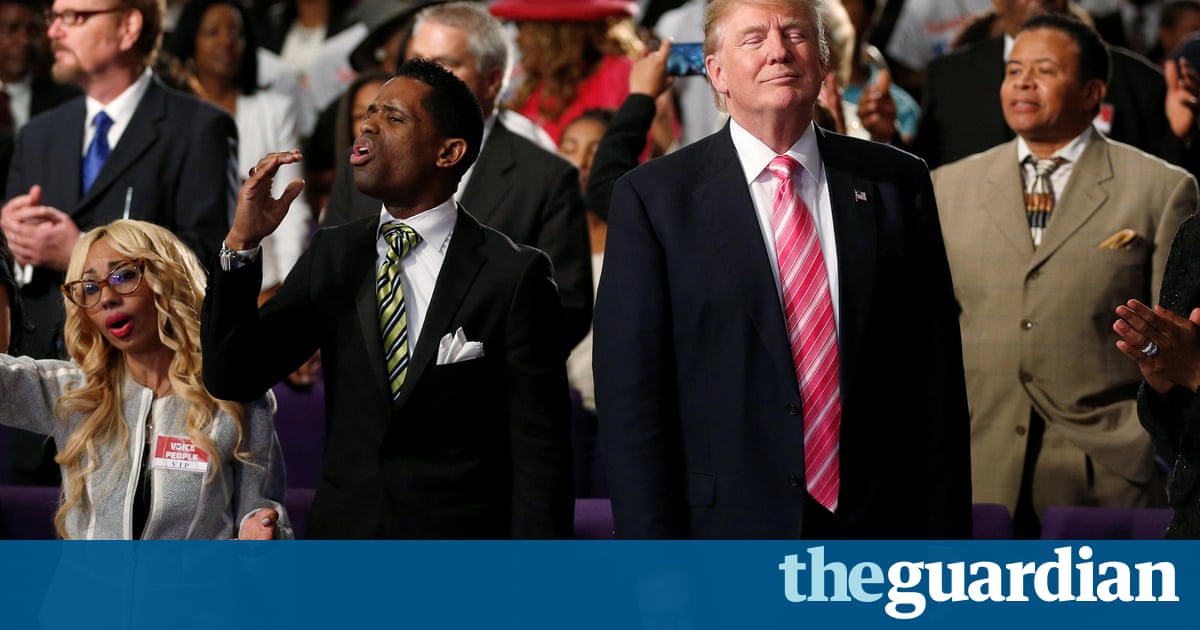 Donald Trumps visit to a black church in Detroit met with palatable disgust among protesters and activists on Saturday, but won praise from parishioners who attended the service at the Great Faith Ministries church on the citys west side.
A sea of protesters and a heavy police presence surrounded the church, as local residents along Grand River Avenue looked on. Chants of No Trump, go home Trump were raised by about 75 people in a march organized by local pastors and activists.
The visit by the Republican presidential nominee came just two weeks after a speech to business tycoons in downtown Detroit was nearly derailed by activists who continually interrupted him.
Tony Minetee, who grew up near the church, called the scene on Saturday a circus.
Trump is an idiot, and hes pandering, said Minetee, 48. After months of harsh campaign rhetoric from the former reality TV star, Minetee said his effort to court the African American vote was almost incredible. You cant just talk to people like that and think its going to just smooth over, he said.
Rick McGowan, 62, carried a sign with a caricature of Trump that deemed him unstable in all his ways.
I disagree with Donald Trump on everything that he says, he said.
The Trump campaign would not allow the Guardian inside the church, as different aides said it was a closed event or said no press would be permitted at all. Events inside the church were, however, broadcast on television. As the service began, shortly after 11am, Trump shook hands with members of the congregation, then took a seat in the churchs front row, swaying back and forth to music.
To mild applause, Bishop Wayne T Jackson noted that the Republican nominee was in the crowd.
This is his first African American church hes been in, yall, said Jackson, laughing and noting that the service would be a little different to those of the Presbyterian church to which Trump is accustomed.
After Jackson spoke about the need for love and called on parishioners to hug and love each other, Trump could be seen hugging and greeting churchgoers himself. He posed for selfies and held up a baby.
Trump had not been expected to address the congregation, having sat beforehand for a privately taped interview with Jackson that was due to be edited and published later on Saturday. In the event, he said he would read some remarks he had written several days earlier.
Trump is not known for his strong Christianity: asked last year at an evangelical event in Iowa if he had ever sought Gods forgiveness, he said that he had not. Accordingly, he has struggled among white evangelical voters. In Detroit, his speech was heavily focused on faith and the importance of black churches through US history.
Reading from a script and adopting a milder tone than that familiar from campaign rallies and debates, the billionaire businessman said: Were all brothers and sisters and were all created by the same God. We must love each other and support each other and were in this all together.
I fully understand that the African American community is suffering from discrimination and there are many wrongs that must still be made right. They will be made right. I want to make them right.
Its from the pews and pulpits [and] Christian teachings of black churches all across this land that the civil rights movement lifted up its soul and lifted up the soul of our nation.
There is perhaps no action our leaders can take that would do more to heal our country and support our people than to provide a greater platform to the black churches and churchgoers.
Trump also noted that the Republican party was the party of Abraham Lincoln, the 16th president, who defeated the slave-owning Confederacy in the civil war and signed the emancipation proclamation.
Becoming the nominee of the party of Abe Lincoln has been the greatest honor of my life, said Trump. It is on his legacy that I hope to build the future of the party, but more importantly the future of the nation.
Trump did not focus on crime and law and order, as he has done when speaking to white audiences, or touch on police violence against the black community, gun violence or mass incarceration major African American issues that the Democratic candidate, Hillary Clinton, has discussed on the campaign trail. Instead, he focused on jobs.
Im here today to learn so that we can together remedy injustice in any form and so that we can remedy economics so that the African American community can benefit economically through jobs and income and many different ways, he said.
Detroits only gone through bankruptcy once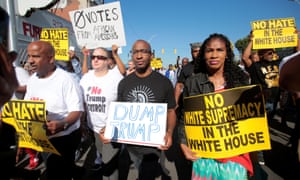 Read more: https://www.theguardian.com/us-news/2016/sep/03/donald-trump-protest-black-detroit-church