NEW YORK When Donald Trump descended the escalator at Trump Tower on June 16, 2015 and launched into a campaign kickoff speech that included railing against Mexico for supposedly sending drug dealers and "rapists" over the border, Steve Bannon saw a Breitbart News reader at the podium.
"That speech really talked about the themes that have been on Breitbart," Bannon told The Huffington Post last month during the Republican convention in Cleveland. "His thing on illegal alien crime was literally taken off the pages of Breitbart."
Breitbart News, a self-described "populist, nationalist" site, has been viewed as Trump's biggest media megaphone throughout the 2016 election, amplifying his positions and blasting Republican critics and other media outlets. But as Bannon, the site's executive chairman, temporarily leaves his position to become the Trump campaign's chief executive, the perception of who's been boosting whom gets murky.
"So wait, Breitbart is now running the Trump campaign when all this time we thought Trump was running Breitbart," tweeted Dan Pfeiffer, former Obama White House communications director.
Washington Post reporter Bob Costa suggested that was the case Wednesday morning on MSNBC: "The beating heart of Trumpism started at Breitbart."
Trumpism didn't start, however, with Andrew Breitbart, the late founder and media provocateur. It started when Bannon, a former Goldman Sachs banker, filmmaker and conservative activist, took over the site after its namesake founder died in 2012.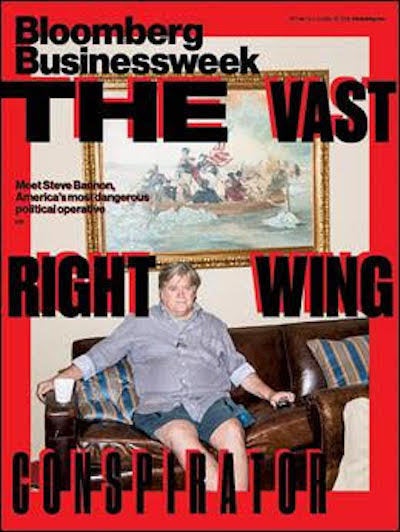 Dubbed the
"most dangerous political operative in America" last year by Bloomberg Businessweek, Bannon has led a site that's increasingly taken
hard-line positions on immigration and trade while dropping bombs on Republican establishment figures deemed insufficiently conservative from former House Majority Leader Eric Cantor to current House Speaker Paul Ryan.
The site's traffic grew to more than 30 million unique readers last month, thanks to its pugilistic style and Trump boosterism and much to the dismay of many in Republican media and political circles.
"Bannon has ruined the Breitbart News operation by running it as a Trump super-PAC full of sensationalized stories and Trump fan fiction, rather than the sharp, muscular, anti-establishment vision the late Andrew Breitbart had for the enterprise," Republican consultant Matt Mackowiak wrote Wednesday in The Hill.
Conservative radios hosts and Trump critics Charlie Sykes and Erick Erickson also took aim when news of the latest campaign shake-up emerged.
Stephen Hayes, a Weekly Standard senior editor and Fox News contributor, declared Wednesday that Trump had chosen to "end his campaign living in the alternate reality that Breitbart creates for him on a daily basis."
Though Bannon has expressed admiration for Roger Ailes, the former Fox News chief and political operative who is reportedly advising Trump ahead of next month's presidential debates, he's said Fox is "not nearly as right-wing" as Breitbart.
"Fox, in fact, has been a globalist, not particularly nationalist site," he told HuffPost last month. "And I think the mainstream media misses that Fox is not nearly as right-wing or conservative as Breitbart. And we consider ourselves the litmus test of the populist, nationalist news reporting in the country and we're very proud of that."
Given Bannon's proclivities, the Trump campaign under his watch isn't expected to tone things down or try appealing to moderates in other words, do what a convention Republican candidate would normally do to court the broadest swath of general election voters.
Instead, it's more likely a Trump campaign under Bannon will be even less restrained when targeting Democratic presidential nominee Hillary Clinton, possibly dredging up the decades-old scandal of President Bill Clinton's infidelity in the White House. He signaled that was the plan in the Bloomberg News profile: "There's a whole generation of people who love the news but were 7 or 8 years old when this happened and have no earthly idea about the Clinton sex stuff," he said.
That profile said Bannon urged Trump to make a trip to the U.S.-Mexico border early in his campaign and Breitbart News' laudatory coverage of Trump throughout the election season has fueled rumors that he helps fund the site. Last year, Bannon said there was "no financial relationship with Donald Trump as an investor, advertiser or in any other capacity at this time—nor have we ever."
Former Breitbart News spokesman Kurt Bardella told HuffPost he believes the relationship has been "much more about a transaction of influence and proximity than financial."
In May, Bardella, the president and chief executive of Endeavor Strategies, quit representing Breitbart News after two years because the company wasn't adequately defending reporter Michelle Fields, who said she was roughly grabbed by then-Trump campaign manager Corey Lewandowski. Fields, who now writes for HuffPost, quit Breitbart News after the incident, as did several staffers who believed the site was siding with the Trump campaign.
Ben Shapiro, who quit as Breitbart News editor-at-large around the same time, wrote Wednesday that Bannon betrayed Andrew Breitbart's mission and turned the site "into Trump Pravda for his personal gain." Shapiro portrayed Bannon as an opportunist latching onto famous conservatives like Sarah Palin as subjects for a fawning documentary. He said the site "embraced" white supremacy under Bannon's watch, boosting the so-called alt-right. Shapiro described Bannon as a "vindictive, nasty figure, infamous for verbally abusing supposed friends and threatening enemies."
Bardella, a Republican who does not support Trump, also criticized Bannon's management style, saying he might call "you up at two in the morning and berate you in a profanity-laced tirade."
"Having someone as volatile as Bannon being the key adviser to someone who is as volatile and unpredictable as Trump, that is not a recipe for success in campaigning and politics," Bardella added. "Traditionally, you try to have advisers who don't try to one-up you on hyperbole. It's going from bad to worse."
Bardella also said Bannon had been "absolutely angling for a position of influence" with Trump and had "openly boasted about the idea of serving in the White House, potentially as a chief of staff."
Bannon did not respond to a request for comment.
Having someone as volatile as Bannon being the key adviser to someone who is as volatile and unpredictable as Trump, that is not a recipe for success in campaigning and politics. Former Breitbart News spokesman Kurt Bardella
However, Breitbart News editor-in-chief Alex Marlow pushed back against Bardella's claim that Bannon was seeking a job. Marlow said he was one of Bannon's closest confidants at the site and "never heard him say anything remotely resembling that."
"I think that Steve and Donald Trump are simpatico about a few things," Marlow said in an interview Wednesday. "I know they've known each other for a while and I'm not privy to all their communications in the past not by a long shot. I do know they seem to be in agreement really what has been the three-legged stool that has propelled not just Trump but this populist, nationalist movement.
Two of those legs, he said, are policy issues: immigration and trade. The third, he said, is cultural: Trump's attacks on "political correctness" and the media. "I think this is another area where Trump and Steve are of one mind that sometimes being aggressive and throwing political correctness to the wind might be the best tactic."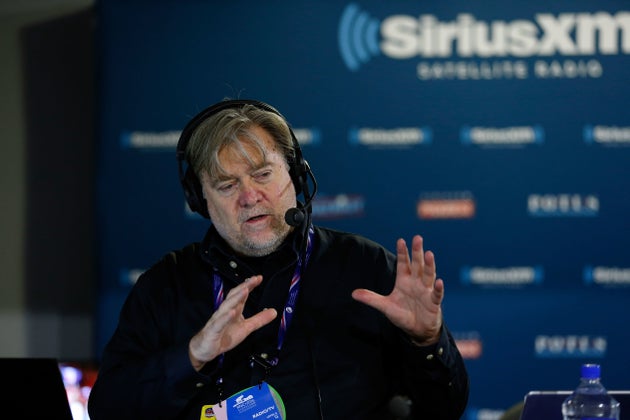 In a statement, Breitbart CEO and President Larry Solov described Bannon as "a huge piece of manpower" and said the company knows "he will perform brilliantly in his new role."
Bannon has booked Trump a few times on his SiriusXM morning radio show and suggested to HuffPost last month that the site didn't have a problem getting access to the campaign. But Bannon said Breitbart News' interest wasn't in stories of campaign machinations like one might find on Politico, but in those about national sovereignty, immigration and free trade polices that are "really just a globalist donor, corporatist, giveaway."
"It's not that Trump's late to the party," Bannon added. "But he kind of came and picked up those themes."
Read more: http://www.huffingtonpost.com/entry/steve-bannon-breitbart-donald-trump_us_57b49a78e4b0b42c38afc52f?