After a week of rather pedestrian viewership numbers, reality TV star-turned-presidential-nominee Donald Trump took the Republican National Convention stage on Thursday hoping to offer some captivating primetime entertainment. After speaking for 76 minutes in the longest nomination acceptance speech in recent history, Trump seemed confident he'd done it.
Turns out, he wasn't quite right.
With just about 30 million viewers on cable news and network television, according to Nielsen, Trump's speech was the lowest-rated since at least 2004.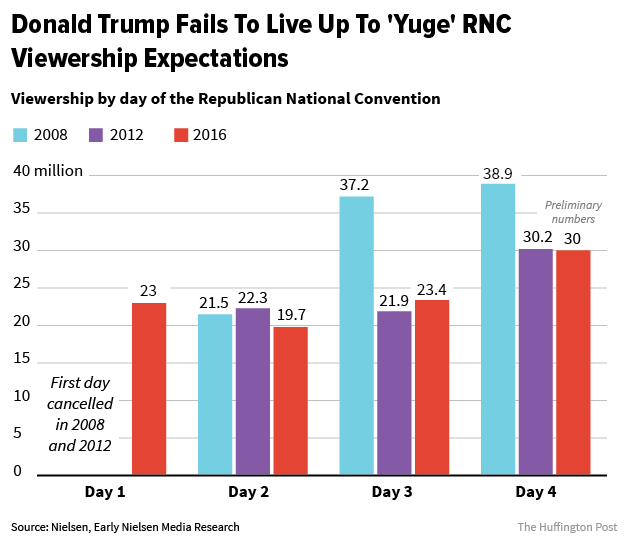 Alissa Scheller/The Huffington Post
That's for either party.
Many have pointed out that Nielsen's formula, which tallies numbers from Fox News, CNN, MSNBC, ABC, CBS and NBC, might not be the most accurate marker of total viewers, as Americans are increasingly turning to online streaming options for programming.
But if Trump was hoping to blow away the competition with his showmanship and track record as a successful entertainer, he certainly fell short of that goal.
We'll know more about how interest in his speech stacks up against his rival, Hillary Clinton, when she formally accepts her party's nomination next week at the Democratic National Convention in Philadelphia.
Editor's note: Donald Trump regularly incites political violence and is a serial liar, rampant xenophobe, racist, misogynist and birther who has repeatedly pledged to ban all Muslims — 1.6 billion members of an entire religion — from entering the U.S.
Read more: http://www.huffingtonpost.com/entry/donald-trump-rnc-viewership_us_57927d50e4b02d5d5ed19a54?section=