NEW YORK — Hillary Clinton should not be alive right now.
In late September, the National Enquirer reported that Clinton was desperately sick, quoting sources who said "she'll be dead in six months."
Clinton outlived the anonymous sources' prognosis, but the likely Democratic presidential nominee can expect similarly dire headlines over the next six months, given the Enquirer's record of attacking rivals of presumptive Republican nominee Donald Trump.
Trump on Wednesday praised the Enquirer, which had most recently linked Texas Sen. Ted Cruz's father, Rafael, to the assassination of President John F. Kennedy. The national media ignored the bizarre JFK plot story for two weeks before Trump injected it into the news cycle Tuesday morning on Fox News, just as Indiana voters headed to the polls. And he kept defending the story, even after Cruz dropped out of the race.
"All I did was refer to it," Trump said on ABC's "Good Morning America" on Wednesday. "I'm just referring to an article that appeared. It has nothing to do with me. The National Enquirer gave you John Edwards. It gave you O.J. Simpson. It gave you many, many things. I mean, you can't knock the National Enquirer. It's brought many things to light."
The Republican nominee's fondness for the Enquirer makes sense, given the publication's kid-glove treatment of him this election cycle with stories such as, "Donald Trump: The Man Behind The Legend!"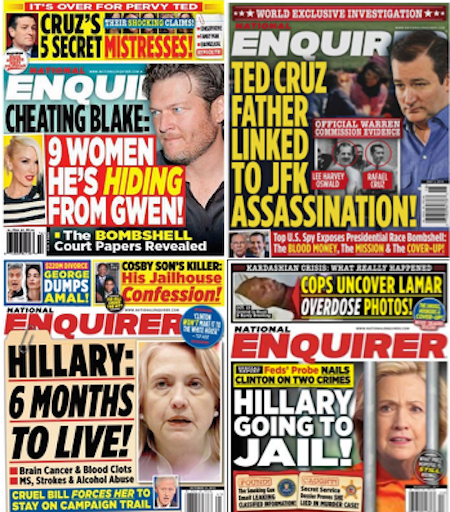 <
div class="content-list-component" text">
While the Enquirer only officially endorsed Trump in March, the tabloid's leanings have been on display throughout the Republican primary.
"Homewrecker Carly Fiorina Lied About Druggie Daughter," blared a September headline.
"Bungling Surgeon Ben Carson Left Sponge In Patient's Brain!" came weeks later.
'Family Man' Marco Rubio's Love Child Stunner!" dropped in December.
More recently, The Enquirer set its sights on Cruz, who emerged as Trump's most serious rival. In late March, the Enquirer published unsubstantiated rumors that Cruz had affairs with five women. Some news outlets had previously looked into Cruz infidelity rumors, but found no evidence to support them.
The National Enquirer was famously right about Edwards' affair during the 2008 campaign, so political reporters are reluctant to ignore its probes into the private lives of public figures.