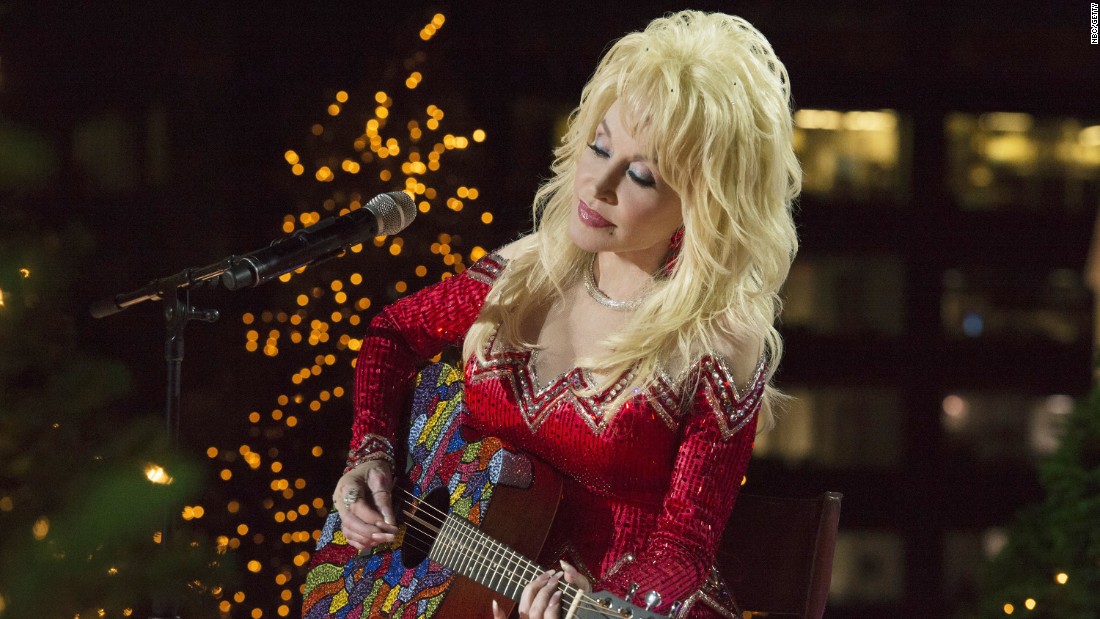 (CNN)After the success of "Dolly Parton's Coat of Many Colors," a sequel was inevitable. And NBC's follow-up movie, subtitled "Circle of Love," actually manages to be sappier and more infused with Christmas spirit than the last one, which frankly didn't seem possible.
Indeed, to those ensconced in red states prone to gripe that the major networks ignore religion, this Hallmark Channel-like offering proves that godless Hollywood likes the green in Christmas just fine. And it's all presented so earnestly that "Circle of Love" should connect with the same audience, meaning all concerned should probably begin making plans for next year right now.
Introduced by Parton as "another true story of a Christmas miracle that happened during my childhood" (how many of those do most people get?), the movie picks up in 1955, where the young Dolly (Alyvia Alyn Lind) and her family remain dirt poor but filled with love and faith. Yet God seems determined to keep testing them, prompting characters to ask how they can continue to believe, only to have their piety rewarded.
<
ul class="cn" cn-list-hierarchical-xs cn–idx-4 cn-zoneadcontainer">
This latest effort comes with a sort-of "Gift of the Magi" theme, as Dolly's parents (Jennifer Nettles, Ricky Schroder) puzzle over how to scrape together money to let each of the children receive a "store-bought" gift. When he brings up the subject of that wedding ring he never bought her, she pluckily replies, "After eight kids, I'm just about as married as I can get."
Nevertheless, the family will be forced to contemplate just how they want to spend money — for themselves, or others — as well as face disasters both natural (a blizzard) and man-made (a coal mine cave-in). And yes, Dolly's budding desire to perform again figures into the story, this time by hungering for the role of Mary in the school's Christmas pageant.
Parton even drops in as a painted lady that interacts with her younger self, which mostly contributes to the comedy factor, as the little girl gushes about wanting to look just like her when she grows up.
To the extent it works, credit the cast (including Gerald McRaney as Dolly's minister grandpa) and some of the little touches in Pamela K. Long's script, like Dolly's first brush with indoor plumbing.
NBC will pair the movie with its annual "Christmas in Rockefeller Center" special, creating one big, festive night of holiday cheer. And while cynics can snort at all the movie clichs that somehow found their way into Parton's childhood memories, the net effect no doubt creates the ideal environment to sell advertising for lots of "store-bought" items.
"Dolly Parton's Coat of Many Colors: Circle of Life" airs November 30 at 9 p.m. on NBC.
Read more: http://www.cnn.com/2016/11/30/entertainment/dolly-partons-circle-of-love-review/index.html