<figure class="media-landscape" no-caption full-width lead">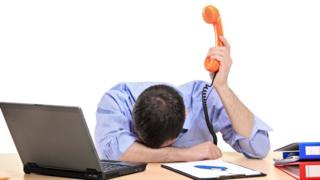 Image copyright Thinkstock
Being told that your call is valued is the most annoying feature for those waiting on the phone to a company, a new survey suggests.
Consumer group Which? said nearly half of its members surveyed said such reassurance was most likely to make them see red while hanging on the line.
Next on the frustration list was being directed to the company's website, and apologies for all operators being busy.
Callers would rather be told how long they would have to wait, Which? found.
Many also wanted to know where they were in the queue, and to be given the choice of being called back. Nearly half of those asked said that classical music was the most soothing while waiting.
<div id="bbccom_mpu_1_2_3″ class="bbccom_slot" mpu-ad" aria-hidden="true">