In Australia for a block party curated by the Avalanches at the Sydney Opera House, the pioneering DJ spoke about the evolving challenges of his craft
Sampling isnt just about dusty 45s anymore, says Josh Davis, and he ought to know. As DJ Shadow, Davis has been responsible for some of the seminal, pioneering works in the genre, beginning with the critically acclaimed Endtroducing in 1996. His debut full-length album, it was composed entirely of samples, the first of its kind.
My agenda back then was like, planting a flag in the soil and saying, This is my art form, sampling is my art form, the sampler is my instrument, Davis tells Guardian Australia. Its real, its authentic, theres art to it, there is a discipline, its a craft. And thats what I wanted to represent. Now, obviously, 25 years later, we all know that … The art of sampling in itself is no longer novel.
Davis is about to embark on the Australian leg of his current world tour, kicking off his trip through the Antipodes with two nights at Sydneys Vivid festival. His last appearance in this neck of the woods was in 2015, on the Renegades of Rhythm tour with Cut Chemist a vinyl-only tribute to hip-hop in which the two DJs spun Afrika Bambaataas record collection, with the blessing from the Godfather of hip-hop himself.
This time around, Daviss Vivid appearance sees him sharing a stage with Australian band the Avalanches touring off the back of their long-awaited second album Wildflower (2016) alongside Briggs, Sampa the Great, DJ JNETT and Jonti.
Once, Davis explains, all you needed to do to create a new sound was dig out some old vinyl. These days the scene has moved on, and an original aesthetic requires much more imagination. Once you add something to the vocabulary, you dont want to continue to go back to that same way of doing things, because thats what everybody else is doing now, he says.
While Davis insists that he tries to do something different with every record sometimes to the chagrin of fans of his early work the DJ Shadow sound still has a distinctive flavour: jazz and funk influences punctuating melodies that are often defiant, often deeply eerie, boosted by hip-hop beats and a heavy dose of the unexpected.
Narrative, too, plays a big role in that sound consider the dramatic arcs of a track like Stem/Long Stem, or the melancholy shifts in Blood on the Motorway. Its a conscious element of his live shows as well.
I definitely have always tried to avoid anything smacking of some kind of retro party. Thats definitely not where my head is at in terms of how I like to represent my music, he says.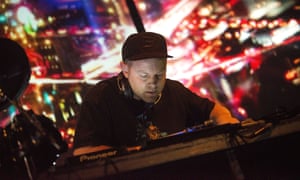 Read more: https://www.theguardian.com/music/2017/may/24/dj-shadow-music-has-never-been-worth-less-and-yet-sampling-has-never-been-more-risky