<figure class="media-landscape" no-caption full-width lead">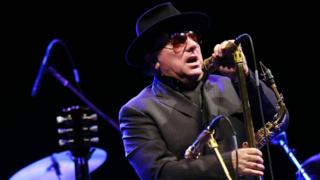 Image copyright AFP
I have a special connection to an enigmatic Belfast man whose music crosses jazz, blues, folk and rock.
In the late 1980s, I was held hostage in Beirut. Of my five years in captivity, four were spent with the Irish writer Brian Keenan.
Stripped of virtually all external stimuli, we had to keep our minds and hearts going with memories.
Two lonely men, we shared things that had touched us – books, films and music.
Our soundscape then was as blank and depressing as the concrete walls of our cells. But music would emerge from our memories and we would hum snatches of songs as they came to us.
<div id="bbccom_mpu_1_2_3″ class="bbccom_slot" mpu-ad" aria-hidden="true">