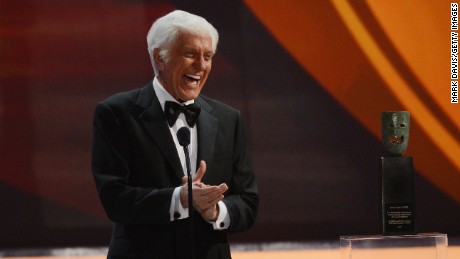 (CNN)Here is a look at the life of award-winning actor Dick Van Dyke.
Personal:
Birth date: December 13, 1925
Birthplace: West Plains, Missouri
<
ul class="cn" cn-list-hierarchical-xs cn–idx-4 cn-zoneadcontainer">
Birth name: Richard Wayne Van Dyke
Father: Loren "Cookie" Van Dyke, a traveling salesman, Sunshine Biscuit Company
Mother: Hazel (McCord) Van Dyke
Marriages: Arlene (Silver) Van Dyke (February 29, 2012-present); Marjorie (Willett) Van Dyke (February 12, 1948-May 4, 1984, divorced)
Children: with Marjorie (Willett) Van Dyke:Christian, Barry, Stacy, Carrie
Other Facts:
Married his childhood sweetheart, Marjorie, with a ceremony on a radio show, "Bride and Groom."
Is the older brother of comedian Jerry Van Dyke.
Has been a recovering alcoholic since the 1970s.
Radio announcer in the Army during World War II.
Timeline:
1940s – Opens and closes an advertising agency.
1947-1953 – Tours the country with Philip Erickson, as the Merry Mutes and later Eric and Van. Their act is comedy-pantomime.
1953-1955 – Daytime television emcee in Atlanta for the shows "The Merry Mutes" and "The Music Shop."
1955 – "The Dick Van Dyke Show" airs locally in New Orleans.
June 1955 – Accepts a seven-year CBS contract as an emcee.
1958 – Is released from CBS' seven-year contract.
November 2, 1959 – Broadway debut in a musical revue, "The Boys Against the Girls."
April 14, 1960 – Stars in the Broadway musical "Bye Bye Birdie" as Albert Peterson. He reprises the role in the 1963 movie.
1961
–
Wins a
Tony Award
for Best Actor, Supporting or Featured (Musical) for "Bye Bye Birdie."
October 3, 1961-June 1, 1966 – "The Dick Van Dyke Show" airs
. He stars as Rob Petrie, a TV comedy writer balancing his career and family life in the suburbs.
Mary Tyler Moore
plays his wife, Laura.
1964 –
Grammy
winner, shared with
Julie Andrews
, for Best Recording for Children for "Mary Poppins."
1965 – Emmy winner for Outstanding Individual Achievements in Entertainment for "The Dick Van Dyke Show."
1966 – Emmy winner for Outstanding Continued Performance by an Actor in a Leading Role for "The Dick Van Dyke Show."
September 18, 1971-March 11, 1974 – "The New Dick Van Dyke Show" airs.
September 2, 1976 and October 7, 1976 – The only airings of "Van Dyke and Company," a TV variety special.
1977 – Emmy winner, as executive producer of the Outstanding Comedy-variety or Music Series for "Van Dyke and Company."
October 26, 1988 – "The Van Dyke Show" premieres and runs for 10 episodes. Van Dyke's son, Barry, is a series regular.
October 29, 1993-May 11, 2001 – "Diagnosis: Murder" airs. Son Barry is a series regular.
2006 – Begins a series of made-for-TV movies, "Murder 101," based on the character Dr. Jonathan Maxwell. The series also stars his son, Barry.
2013 – The Screen Actors Guild presents Van Dyke with the 2012 Lifetime Achievement Award.
Read more: http://www.cnn.com/2013/07/23/us/dick-van-dyke-fast-facts/index.html