<figure class="media-landscape" has-caption full-width lead">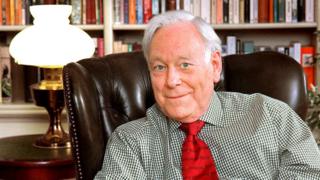 Image caption Carrington suffered heart failure on Christmas Day 2015
Veteran broadcaster Desmond Carrington is to leave BBC Radio 2, bringing his 70-year career to a close.
The DJ, who turned 90 in May, will host his final episode of The Music Goes Round on Friday 28 October.
"I wasn't too well after my 90th birthday and it has been a bit difficult to carry on.
"So reluctantly, but I hope sensibly, I'm going to hang up my headphones at the end of October and say 'enough is enough,'" he told listeners.
"Seventy years on the air since 1945 isn't a bad record, and it is now time to welcome someone younger."
<div id="bbccom_mpu_1_2_3″ class="bbccom_slot" mpu-ad" aria-hidden="true">