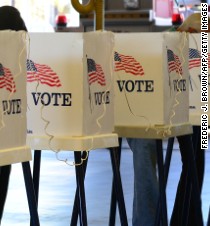 (CNN)Democrats this week won a potentially major victory in Ohio — months before the November election.
A federal court reinstated Ohio's "Golden Week" — seven days of early voting with same-day voter registration that Republican state lawmakers struck down two years ago. The ruling looks like a clear victory for Democrats, who had sued to reverse the decision.
<
ul class="cn" cn-list-hierarchical-xs cn–idx-4 cn-zoneadcontainer">
"It might only be a marginal impact, but in a very close election — like ones that Ohio is known for — then that 's something that is potentially significant. They're fighting a game of inches here," said Rick Hasen, an elections law expert and professor at University of California, Irvine.
Republicans reduced the state's early voting period from 35 days to 28 days before the general election and eliminated the "Golden Week." Democrats quickly challenged the law in court.
"In a swing state like Ohio, we're going to be fighting for every single vote, and the margin of victory in the presidential race, as well as our U.S. Senate race, could certainly come down to a few thousand votes. 80,000 Ohioans took advantage of early voting during Golden Week in 2012, and that could be the difference this fall," Ohio Democratic Party Chairman David Pepper said Wednesday.
Ohio Secretary of State Jon Husted, a Republican, immediately announced he would challenge the ruling.
Husted argued that lawmakers had the power to create early voting and should also have the power to limit it.
"For nearly 200 years, Ohioans voted for only one day," Husted said in a statement. "If it was constitutional for lawmakers to expand the voting period to 35 days, it must also be constitutional for the same legislative body to amend the timeframe to 28 days, a timeframe that remains one of the most generous in the nation."
But Federal District Court Judge Michael Watson, who was appointed by former President George W. Bush, sided with Democrats who argued that the law disproportionately affected African American voters.
The focus of recent voting battles on has long been on voter ID measures approved in Republican-dominated states, but curbs on early voting have emerged as another battleground that could decide who wins the White House.
The Trump campaign has emphasized winning the Rust Belt as central to its strategy to beating Clinton and Ohio is a must-win for the campaign. No Republican has ever won with White House without winning Ohio.
But a big question mark hangs over whether the ruling will stick through November or be blocked before then.
"At some point the Supreme Court is going to have to step in and provide some clarification," said Richard Saphire, a law professor emeritus at the University of Dayton, who has filed a challenge against the state in a separate voting case. "Of course in this world where you have an eight-member Supreme Court, there's no reason to think that's going to happen before November."
Read more: http://www.cnn.com/2016/05/25/politics/ohio-early-voting-lawsuit-trump-democrats/index.html