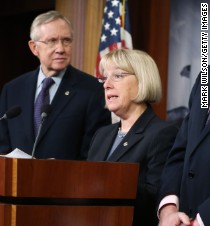 (CNN)Senate approval of a must-pass short-term government spending bill was threatened late Thursday as West Virginia Sen. Joe Manchin and other Democrats worked to bolster miners' health insurance provisions in it.
They warned they might block the must-pass funding bill if their demands were not met, potentially leading to a government shutdown.
<
ul class="cn" cn-list-hierarchical-xs cn–idx-4 cn-zoneadcontainer">
It was not clear if the Democrats could muster the 41 votes they need to block the Republican-authored bill. Adding more uncertainty to the situation, that procedural vote is currently scheduled for Saturday morning, hours after the Friday midnight deadline for when the government would run out of money.
The push is being led by several coal state Democrats up for re-election in two years, and is supported by the Senate Democratic leadership.
At issue is extending an expiring health insurance program for retired miners and their spouses.
Manchin described as "inhumane" and a "non-starter" a four-month extension of the insurance that's in the current spending bill. He said it should be lengthened to at least one year to provide some level of certainty for the people who rely on the government-backed health insurance program.
"If we don't do this, we have no business going home" for the holidays, said Sen. Sherrod Brown, an Ohio Democrat, at a late news conference on the Capitol grounds, attended by affected miners.
The Democrats had hoped also to make a fix to a miners' pension program but decided to put that battle off until the new Congress convenes next year and concentrate just on the health insurance component.
"A lot of our members feel extremely strongly about miners," said Sen. Chuck Schumer, the incoming Democratic leader in the chamber.
A spokesman for Senate Majority Leader Mitch McConnell said the Kentucky Republican also supports a longer extension of the health insurance program but said the Senate's hands were tied because the bill was written in the House, which only extended the program for the length of the stopgap spending bill.
The high stakes move by Manchin, a moderate Democrat who is up for re-election in two years, comes a day before he is scheduled to meet with President-elect Donald Trump in New York. He is believed to be under consideration for a cabinet position in the new administration, possibly to head the Department of Energy.
Democrats said they hoped Trump, who won strong support from coal country, might join forces with them and insist on a yearlong extension of the health insurance.
"We think there is renewed interest with President-elect Donald Trump and we're hopeful we'll be able to get relief and be able to deliver a Christmas present to some of the most sympathetic working people in America," said Sen. Heidi Heitkamp, a North Dakota Democrats, who has also met with Trump about possibly serving in the administration.
Another complication to resolving the issue is that the House of Representatives on Thursday passed a bill to keep the government funded through April 28 and lawmakers left town. That makes it difficult, but not impossible, for the Senate to change the bill.
Heitkamp and Brown are also up for re-election in 2018. As is Sen. Bob Casey of Pennsylvania, another vocal advocate for the miners.
The Democrats wouldn't answer directly if they believe they have enough votes to block the spending bill. But they vowed to continue to lobby members on Friday ahead of Saturday's vote.
"We are going to win this fight. I can't predict the exact path but we are going to win this fight," Schumer said.
Read more: http://www.cnn.com/2016/12/08/politics/house-passes-government-funding-bill/index.html