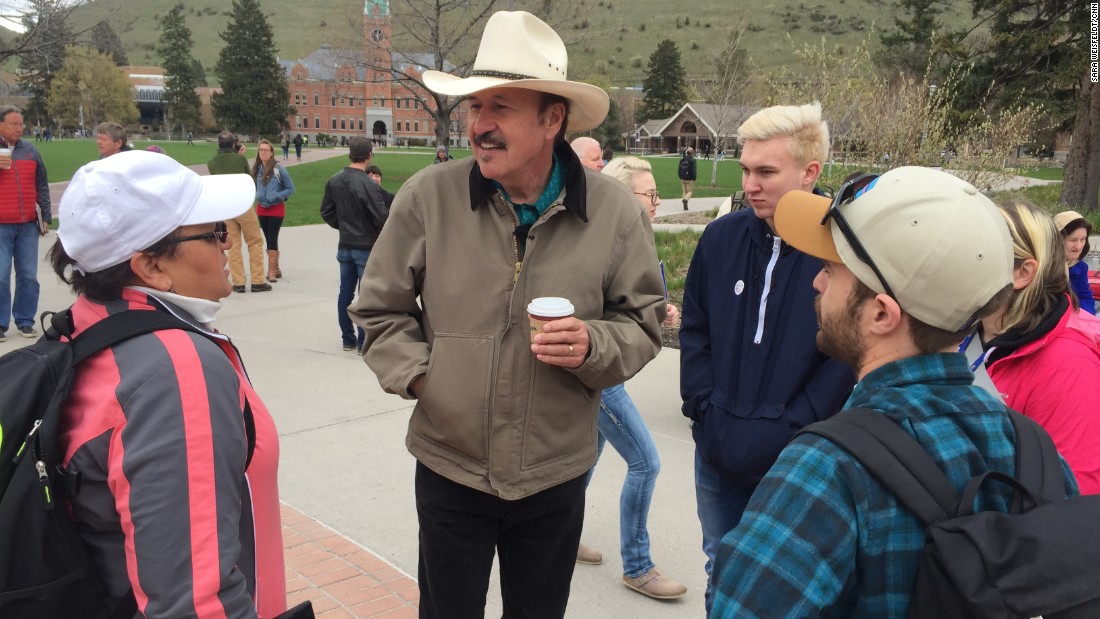 Kalispell, Montana (CNN)The acoustic song is folksy and gentle, carrying the sort of ease you'd expect from a quaint Montana event.
Singing without a microphone and strumming his guitar is Rob Quist, crooning his campaign theme song: "If you stand with me, I can stand up for you."
A woman in the Kalispell, Montana, home, packed with several dozen people to meet Quist at this political meet-and-greet, sways to the tune.
This is hardly the sort of pounding political anthem for an insurgent run at Montana's at-large congressional district seat, recently vacated by Ryan Zinke, now interior secretary in the Trump administration.
The Big Sky state, where President Donald Trump soared to victory by more than 20%, is solidly Republican red, and Democrats haven't managed to snag the state's lone House seat in almost 20 years.
"And then, the Democrats picked a unique outsider candidate. A home-grown, musical star in Montana who … kind of came out of nowhere," said Lee Banville, associate professor of journalism at the University of Montana.
Banville, who specializes in the intersection of politics and media, says in Quist, 69, Democrats have found a candidate who grew up in the humble town of Cut Bank, Montana, turned himself into a state-wide celebrity with his poetry and banjo and whose name has been well-known to locals for decades.
Add in an anti-Trump fervor among the Democratic base after a strong showing in Georgia's 6th Congressional District and $2.5 million in contributions have begun flowing into Quist's campaign.
"There is some momentum on the Quist side," Banville said.
Like his campaign song, Quist appears more Montana rancher than Washington lawmaker, and that is where a potential upset brews in a state that re-elected Democratic Gov. Steve Bullock and Sen. Jon Tester, another Democrat.
They're both politicians who have found ways to connect with their majority-Republican electorate — which Quist already authentically resembles. As he has throughout his musical career, Quist dons his cowboy hat, boots and belt buckle at public events. He approaches supporters with quintessential Big Sky ease, hammering his pet policy, public use of waterways and land.
Traveling to campaign events that span the entire state for the at-large congressional race, Quist rides in a small RV, driven by one of his band members.
"This is about Montana values," said Quist. "We have a lot of common ground and that's where I'm hoping to connect with the people of Montana, where we can put this party ideology aside."
As he talks about the commonality of Montana people, Quist also admits for him to win: "It's going to be a challenge."
Recent history suggests it may be significantly more of a challenge, simply by looking at the congressmen who have represented Montana. Democrats have lost the last 11 congressional elections, the longest losing streak for Democrats for any statewide office since 1889. But this special election is more unusual than others.
National Democrats are seeing a revitalized base after Democrat Jon Ossoff nearly scored an outright win in a heavily conservative House district in Georgia last month and a better-than-expected performance in a special House election in Kansas earlier in April.
The Quist campaign says it has received $2.5 million in contributions, with an average donation of $32 or less. Those factors hover over Montana, Banville said, as does "a healthy dose of anti-Trump sentiment."
Independent voter Jill Weiser, who says she has voted both for both Republicans and Democrats, came to listen to Quist speak, driven by her disgust with the President. "Donald Trump has me so outraged that I feel like I've been slapped in the face," said Weiser. "I'm voting with great vigor rather than a feeling that I'm voting because you're supposed to."