The famous mother and daughter, who died a day apart last week, survived showbusiness by coming to depend on each other, as a poignant new documentary shows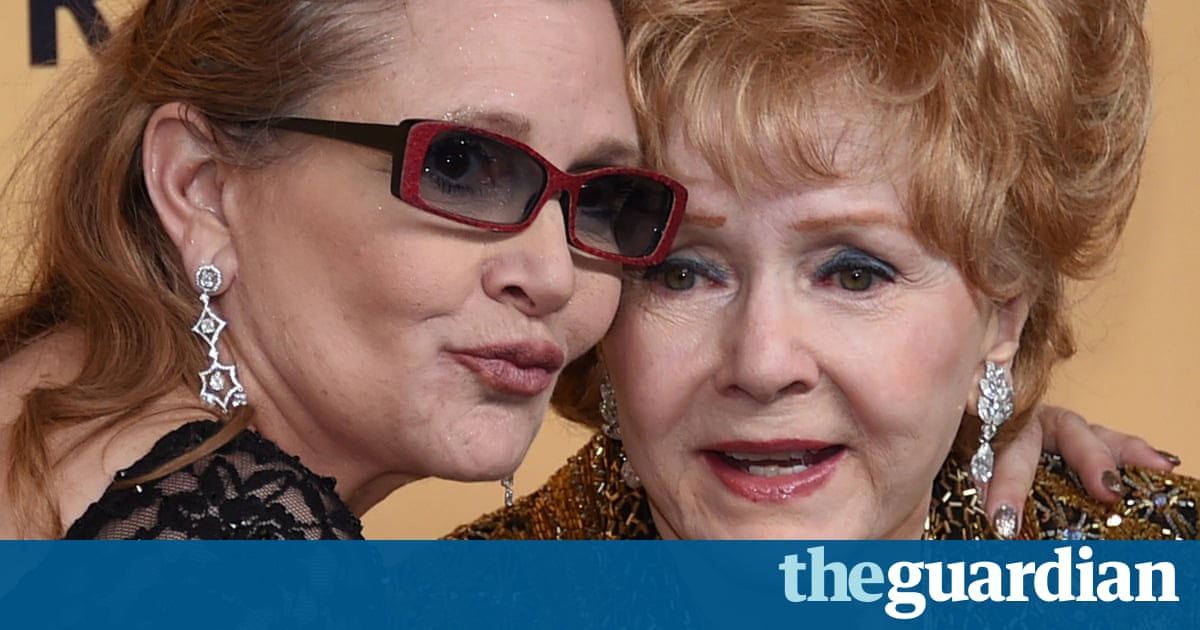 In a modest screening room on the Cte dAzur last spring, the curtains went up on what were to prove the last scenes of a great Hollywood mother-and-daughter saga. An intrigued audience at the Cannes film festival joined Carrie Fisher, fragile in a black cocktail dress and accompanied by her French bulldog, Gary, for the world premiere of a documentary called Bright Lights. Largely shot in the privileged enclave of Beverly Hills, the film is the true-life story of coping with a celebrity parent and with the legacy of stardom. It is also a story that only really ended last week with the unexpected deaths of its two leading ladies: Fisher, 60, and her mother Debbie Reynolds, 84.
Bright Lights: Starring Debbie Reynolds and Carrie Fisher will now be shown by US cable television channel HBO this Saturday, as a fitting memorial to the wit and endurance of a mother-and-daughter showbiz team initially seen singing together on stage in the late 1960s, when the young and increasingly reluctant Fisher had a guest spot in her mothers cabaret show.
The documentary revolves around a series of interviews, interspersed with Hollywood newsreel footage and home movie sequences, and it offers a glimpse of the eccentric domestic life Fisher latterly shared with Reynolds inside a luxury compound once owned by Bette Davis.
The Star Wars actors friend, Fisher Stevens, had originally agreed to direct the film, alongside his wife, Alexis Bloom, with the intention of showing the public how affectionately dependent the pair of warring relatives had grown. But as filming progressed last year it became clear that both actors were revealing a side of themselves that had never been seen before. It also became clear that both faced tough daily health challenges.
We didnt know it was going to get that dark, admitted Stevens at a reception for the film. Thats the beauty of documentary film-making, that you dont know where your movie is going. But there were times when we had to turn off the cameras. Now the film has a permanent valedictory note.
The public was always startled by the fact the young woman who found fame playing Kathy Selden in Singin in the Rain opposite Gene Kelly in 1952 should be the mother of the young woman who in 1977 found fame playing Princess Leia in a space opera. The notion that star talent, or at least charisma, can be passed down the generations is particularly potent when it concerns Hollywoods female firmament. Liza Minnelli is still regarded as her mother Judy Garlands representative on Earth and Melanie Griffith is judged of interest partly for just being the daughter of Tippi Hedren. The status of Hollywood royalty was almost automatically conferred upon them.
And just as Minnelli once recalled a childhood spent watching spellbound from the top of the stairs as her mother performed songs at the piano for her dinner guests in the 1940s, so Fishers childhood was dominated by admiration for her mother: a well-known photograph taken by Lawrence Schiller in 1963 shows the six-year-old Carrie standing in the wings of a theatre, mesmerised by Reynoldss performance on stage. Walking down the street with her was like being in a parade, Fisher once said. I had to share her. She belonged to everybody.
Even before the 1978 publication of Christina Crawfords book Mommie Dearest, with its allegations of cruelty at the hands of her celebrated mother, Joan Crawford, the idea that the excesses of stardom were incompatible with motherhood was a favourite trope of celebrity gossip columns.