The Tonys waved back.
Dear Evan Hansen was awarded Best Musical at the
Tony Awards
on Sunday night, surprising practically nobody, but delighting everyone.
Producer Stacey Mindich accepted the honor, highlighting in her speech the shows central theme about wanting to belong.The cast including breakout star and newly minted Tony winner Ben Platt also performed the musicals central number, Waving Through a Window.
Earlier in the evening, other Evan Hansen stars picked up awards: Benj Pasek and Justin Paul picked up the Tony award for Best Original Score, while Rachel Bay Jones earned one for Best Featured Actress in a Musical, Steven Levenson won the Tony for Best Book, and Alex Lacamoire walked away with Best Orchestrations.
From theminds of La La Land songwritersPasek and Paul, the critically acclaimed musical tells the story of a lonely teenager named Evan Hansen (Platt) struggling with severe social anxiety and the fallout of a classmates suicide. When Hansen is mistaken for a friend of the deceased, he becomes a viral internet sensation the show features a running social media feed onstage as he finds comfort and acceptance in the family of the student he never actually knew.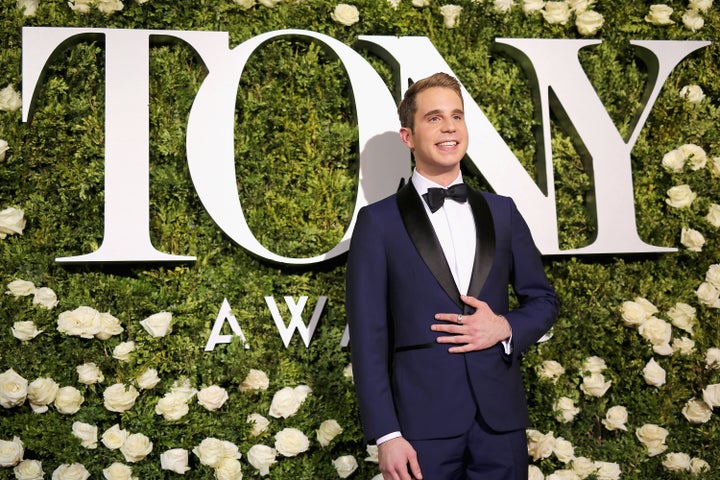 Jemal Countess via Getty Images
<
figcaption class="image__caption" js-image-caption"> Ben Platt attends the 2017 Tony Awards in New York.
Platt has been particularly singled out among the stellar cast members for his performance, which The
New York Times described as
not likely to be bettered on Broadway this season. If the many stars who
stop by his dressing room
after the show is any indication, the 23-year-old previously best known for playing Benji Applebaum in the Pitch Perfect films has taken Broadway and Hollywood by storm with his performance, powerfully capturing the feelings of pain and isolation that come with being at teenager.
The musical has particularly struck a chord with younger theatergoers, whove embraced the shows depiction of mental health issues, a topic that hasnt been spotlighted on Broadway with such care since Next to Normal closed in 2011.
When I get … the opportunity to meet fans after the show or hear from them online or via letters, they feel really comfortable divulging really personal things and opening up about their own struggles, Platt told PBS NewsHour.
Certainly, with anxiety and with self-harm and with inability to connect and all sorts of things. And thats an incredibly beautiful thing, and I want nothing more than for the show to encourage that and to be able to receive things like that.
The actor continued to spread a compassionate message onstage at the Tonys.
The things that make you strange are the things that make you powerful, Platt told fans Sunday night.
The connection audiences feel with the source material has also made Dear Evan Hansen an undeniable commercial success.The Broadway cast album debuted at No. 8 on the Billboard chart, becoming the highest debut by a cast recording since Camelot placed at No. 4 in 1961. (Thats right, Dear Evan Hansen bested even Hamilton: An American Musical in opening album sales.)
Brace yourselves, everybody, for the next great musical phenomenon.
<
ul class="content-list-component" listicle" data-beacon="{"p":{"mlid":"listicle"}}" data-id="593dfc9fe4b02402687aa475″ data-length="43″ id="listicle-593dfc9fe4b02402687aa475″ itemscope itemtype="http://schema.org/ItemList">
<
div class="listicle__slide-caption" js-image-caption">NEW YORK, NY – JUNE 11: (L-R) Kevin Spacey, Robin Wright, and Lin-Manuel Miranda speak onstage during the 2017 Tony Awards at Radio City Music Hall on June 11, 2017 in New York City. (Photo by Theo Wargo/Getty Images for Tony Awards Productions)