With their new album And the Anonymous Nobody out now, lets relive the career of the Daisy Age pioneers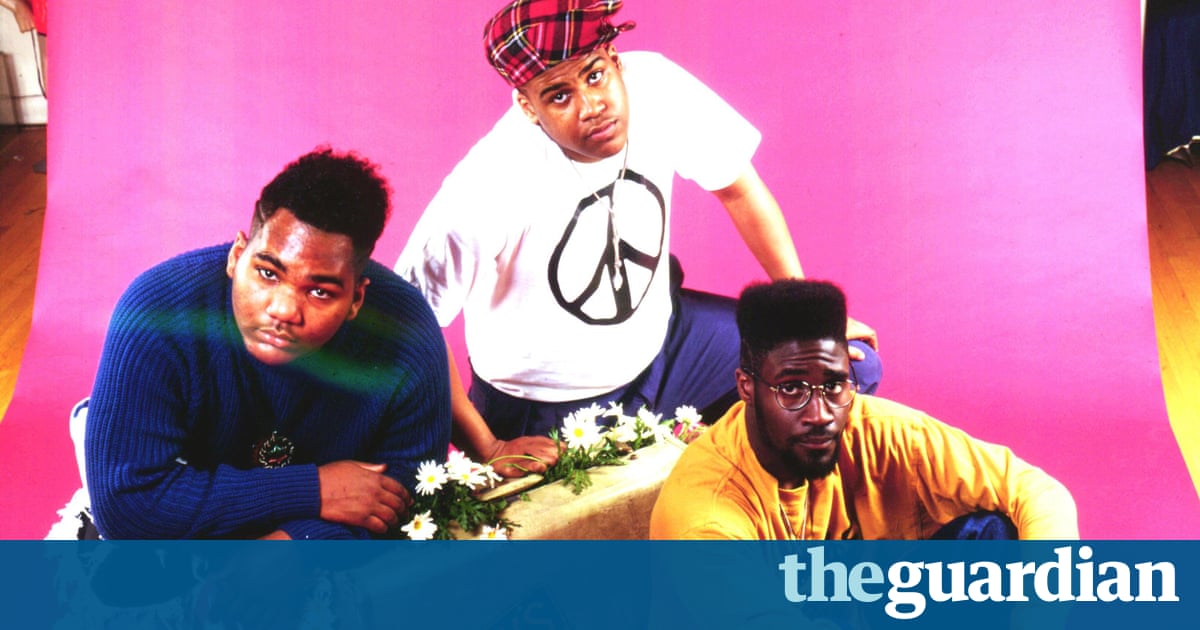 <
h2>1. Me, Myself and I
They werent, as they proclaimed, Transmitting Live from Mars, but Long Island MCs Posdnuos and Trugoy the Dove, and their DJ Maseo (AKA Plugs One, Two and Three respectively), might as well have been. Hitting record racks already stuffed with classic albums by Public Enemy, BDP, EPMD, Big Daddy Kane and Stetsasonic, De La Souls 1989 debut 3 Feet High and Rising brought the Daisy Age (da inner sound, yall) to hip-hop at a time when the culture was hitting full bloom. De La who were members of the Native Tongues collective alongside the Jungle Brothers, Queen Latifah and A Tribe Called Quest allied an Afrocentric, boho bent with a nerdy, recording room exuberance that was all their own, linking with free-spirited producer and Stetsasonic DJ Prince Paul for an album packed with kaleidoscopic samples and silly skits. Powered by an infectious central sample of Funkadelics (Not Just) Knee Deep, first single Me, Myself and I lit the fuse for 3 Feets mainstream explosion, and while the Plugs would grow increasingly weary of performing the song to pop crowds unhip to their oeuvre, the tunes individualist ethos, if not its aesthetic, would remain central to everything that followed.
<
h2>2. Say No Go
A classic case of hip-hop flipping a pop record correctly, 3 Feets anti-crack track in the lineage of hard-hitting fare such as Melle Mels White Lines and Public Enemys Night of the Living Baseheads nabs its bassline, drums and titular vocal sample from Hall & Oates 1981 smash I Cant Go for That (No Can Do). A less personal precursor to My Brothers a Basehead (1991), Say No Go showcases the groups impressive ability to sugar a lyrical pill. Backed by that infectious, blue-eyed soul backdrop, Pos wastes zero time in painting a picture of chemically caused despair: Now lets get right on down to the skit / A baby is brought into a world of pits / And if it couldve talked that soon / In the delivery room / It wouldve asked the nurse for a hit. Theres also a reverent reference to an old-school hip-hop crew (the Funky Four Plus One) and, of course, an eye for humorous detail: a predilection for stonewash denim is a symptom of drug addiction thats seldom been chronicled elsewhere.
Any possible confusion over their second albums title De La Soul Is Dead was ended with its cover art, a simple, sombre illustration of wilted daisies spilling from a cracked, overturned flowerpot. Calling time on the Daisy Age before their sound became pigeonholed, the Plugs unveiled a set that was both astoundingly self-assured and endearingly self-deprecating. While the French-language records and raps about squirrels were jettisoned, the humour remained, albeit drier, a few shades darker and aimed at the increasingly cynical hip-hop world. Here, over a sparse, snapping beat that teams samples of Chuck Jackson, James Brown and, resourcefully, old muckers Stetsasonic, the guys puff blunts and sport multiple beepers as they indulge, ahead of their time, in the type of gangsta parody around which Masta Ace would build his second album, 1993s Slaughtahouse. Indeed, De La themselves would return to the concept with Ego Trippin (Part 2), which riled Tupac Shakur with its allusions to his 1992 hit I Get Around. Their tongue-in-cheek rhymes still land easily on the ear witness rapper Kurious sampling Posdnuos Now I hold my crotch cos Im top notch line to great effect on his antisocial, pro-sexual 1991 single Top Notch.
It may be built around an instantly recognisable Funkadelic loop, but the similarities to Me, Myself and I end there. Over the sombre psych-soul of Ill Stay (and the drums from Melvin Bliss 1974 track, Synthetic Substitution), Plugs One and Two relate a haunting, heartbreaking tale of a teenage schoolmate being sexually molested by her father. The MCs displaced narration, chronicling Millies nightmare but instantly dismissing her claims out of affection for her father, is a masterstroke, making them complicit in a narrative that ends with Millie shooting her father while he works his shift as a department store Santa. From the seemingly seductive spoken-word intro (If you will suck my soul, I will lick your funky emotions) to the fathers abrupt death (Millie bucked him and with the quickness it was over), the listener cant help feeling queasily complicit. De La might not get the heavy rotation of Slade and Wizzard in the Card Factory each yuletide, but this song, for different reasons, lodges just as well in the memory.
<
h2>5. Breakadawn
De La exhaled with 1993s Buhloone Mind State, dispensing with their trademark skits and narrative arcs for a groove-oriented aesthetic that, in keeping with the times, was relaxed and inflected with soul and jazz. Nowhere is this vibe more evident than on the albums twinkly first single, which finds Pos and Dove now, in fact, just plain old Dave scattering their humble, gem-studded rhymes (not to mention Star Trek, REM and Phil Collins references) over a blissful backdrop that combines samples of Michael Jacksons I Cant Help It and Smokey Robinsons Quiet Storm. Somewhat lost in the shuffle of one of hip-hops greatest years (its mind-boggling that De Las buddies A Tribe Called Quest released Midnight Marauders on the same day the Wu-Tang Clan dropped their debut), Buhloone Mindstate has since gained a reputation as the connoisseurs choice. Tracks like Breakadawn are the reason why.
Just as Tribe convinced jazz great Ron Carter to lug his bass into the studio for 1991s The Low End Theory, so De La recruited Maceo Parker, Fred Wesley and Pee Wee Ellis all from James Browns legendary horn section the JBs to let loose their lips and lungs on Buhloone Mindstate. If their live blowing, co-existing with samples from Lou Rawls Youve Made Me So Very Happy and Jimmy Ponders While My Guitar Gently Weeps, brings a level of rawness and maturity to I Am I Be, its more than matched by Posdnuos as he delivers rhymes more personal than at any time before. Many MCs boast about dropping jewels, but Poss brilliance as an MC lies is his tendency to tuck them within the verses, leaving listeners to peel back layers of metaphor and abstraction. Its a style that makes his foray into naked autobiography here all the more arresting: Product of a North Carolina cat / Who scratched the back of a pretty woman named Hattie / Who departed life just a little too soon / And didnt see me grab the Plug Tune fame / As we go a little somethin like this / Look, Ma, no protection / Now I got a daughter called Ayana Monet / Play the cowboy to rustle in the dough / So the scenery is healthy where her eyes lay. In an era when many a stone-faced MC was mumbling Keep it real to champion a grim, steely detachment from their surroundings, De La scored with a different interpretation.
The testy title track from De Las 1996 fourth album, Stakes Is High remains one of hip-hops great State of the Union addresses, a bristling broadside against what the trio saw as the cultures money-mad artistic unravelling. While the outlook may be jaded, the result is anything but. Plugs One and Twos sound invigorated over a beat by soon-to-blow producer Jay Dee AKA J Dilla that riles up an already irate horn sample from Ahmad Jamals Swahililand and augments it with a vocal sample from Browns Mind Power. With gems such as gun control means using both hands in my land, Pos reinforces his own case that every word of mine should be a hip-hop quotable, before Dave attacks the industry: Im sick of bitches shakin asses / Im sick of talkin bout blunts, sick of Versace glasses / Sick of slang, sick of half-ass awards shows / Sick of name brand clothes / Sick of R&B bitches over bullshit tracks / Cocaine and crack, which brings sickness to blacks. While the war may have ultimately been lost (Puffys pleather-and-Rolex rap exploded shortly after), De Las ideals would be upheld by the burgeoning indie movement that would take root in raps underground for the rest of the decade.
Masters of double meaning and slow-release wordplay, De La could never be charged with lyrical heavy-handedness. That said, their contribution to America Is Dying Slowly, a 1996 Aids awareness record masterminded by the Red Hot organisation, is arguably a little too subtle in conveying the albums central message. Pos touches on promiscuity in the crews line of work (The mission of many to be lickin honey vixens), but its not until the songs dying bars that Dave gets on message and, having finished paying tribute to Caddyshack actor Ted Knight, tosses out the line: Ima strap it when Hon wants to tap it. Of course, none of this matters in the slightest, as The Hustle is basically 3 minutes and 53 seconds of Pos and Trugoy rocking the mic over production by New York stalwarts the Beatminerz. Its a tougher sound for the Plugs, and it suits them.
Ably assisted by Redman, the Plugs commandeer the dancefloor with this ebullient lead single from Mosaic Thump (their fifth album and the first in a mooted trilogy that stalled with the following years sequel, Bionix). While the gloriously silly, cameo-crammed video riffs on The Wizard of Oz and its black remake The Wiz, the track itself has a back-in-the-fold Prince Paul getting similarly cinematic in his sampling. Giving The Night Before Christmas a hip-hop makeover, Dave laments how burglars took all the goodies out from under the tree, except the CDs / of shiny-suit rappers and flossin MCs.
<
h2>10.<a href="https://www.youtube.com/watch?v=h5t-bI8ZdoU" data-link-name="in" body link" class="u-underline"> Rock Co. Kane Flow
They say the good die young, so I added some badass flavour to prolong my life over the drums, relates Pos on this single from 2004s The Grind Date. With Dave and Pos puffing out their chests and going toe to toe with the metal-faced supervillain MF Doom, its no idle boast. Its not hard to see why the De La boys might feel a kinship with their guest: as Zev Love X, Doom had been one third of KMD, whose skit-centric, playful debut, Mr Hood, preceded an altogether darker encore: 1993s Black Bastards, shelved by Elektra because of Dooms provocative cover illustration of the groups ironic sambo mascot hanging from a noose. Certainly, the chemistry between the Plugs and their guest is impeccable as they careen but never collide over a tempo-changing beat by Seattles Jake One, wreaking havoc with a murderously chopped sample of Deliverance by French electro pioneers Space. With the MCs serving up a masterclass in mic technique (check out their breathlessly accelerated flows over the beats shuddering, stimulating breakdowns), you cant blame Pos for giving his crew a glowing career appraisal: Everyone cools off from being hot / Its about if you can handle being cold or not / And we was told to hop on no ones dick by Prince Paul / We stayed original ever since, yall / First to do a lot in the rap game but the last to say it, no need to put it on the scales to weigh it. Heres to their continued longevity.
Read more: https://www.theguardian.com/music/musicblog/2016/aug/31/de-la-soul-10-of-the-best